Election 2010–Judgment Day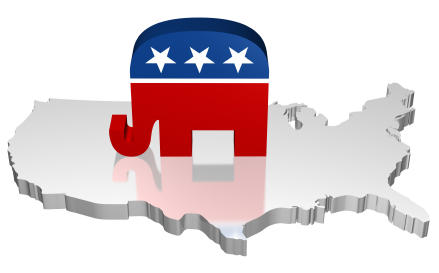 Yes we hope!
Change we can!
Blah blah blah!
Smoke a bowl!
Sorry, I was just doing my impersonation of young California voters, the only ones not taking part in the 2010 election in a rational sensible manner.
For the rest of Americans not spending their nights dreaming about touching themselves (while being too lazy to actually do it) while watching Jon Stewart, the crystal clear verdict is in.
The Republican avalanche seized the House and the Governorships, and came within a few thousand voting irregularities of taking back the Senate. State legislatures have shifted to the right.
Democratic Coalition Crumbles, Exit Polls Say
Take Your Olive Branch and Shove It, Democrats
ELECTION 2010. ALL TIMES PST
3PM: First exit polls in Indiana and Kentucky. Fox News has Bret Baier doing election coverage. Not Beck, O'Reilly, or Hannity, but Baier. This is because Fox News, a real network, separates its news division from its opinion division. MSNBC has Keith Obermann and Rachel Maddow doing the coverage, proving that they have zero interest in serious news coverage, preferring bigotry and rage. CNN has Wolf Blitzer, who is professional and fair.
In the race for governor of New Hampshire, one candidate had a 50 point lead, but apparently only 12 votes came in and the Democrat led 9 to 3. Leftists call this a mandate. I just hope these are not the same 12 people in Dix Hills Notch that people will obsess over in 2012 the way they obsess over that [email protected] groundhog. If the liberals see their shadows, it means 6 more weeks until they are officially fired.
3:55PM Sir Charles of Krauthammer speaks. Instead of political arguments, the Democrats offered epithets. The American people are proud and clear eyed, and they don't like being condescended to.
4PM: Polls close in Georgia, Indiana, Kentucky, South Carolina, Virginia.
4PM: Dan Coats easily wins Indiana senate seat, a GOP pickup. Rand Paul, Jim Demint and Patrick Leahy all hold serve. No surprises.
4:03PM: Rachel Maddow attacks Rand Paul, which on MSNBC is called analysis. Chris Matthews chimes in while Fox News and CNN get over it and move on to actual news. Fox News Wendell Goler reports from the White House while MSNBC crazies still go after Paul, bringing in left-wing hatemonger Ed Schultz for "analysis." Maddow blasts Evan Bayh for the GOP picking up Indiana.
4:10PM: Fox News, supposedly a right-wing hate site, announces that early voting shows Harry Reid doing very well.
4:20PM: Chris Matthews has lengthy interview with DNC big shot Tim Kaine. RNC Chair Michael Steele is not interviewed at this time, typical for the unfair, unbalanced network.
4:29PM: Wolf Blitzer properly pointed out that networks should not make projections until polls close, and clearly explains why raw exit poll data can be imprecise.
4:30PM Polls close in North Carolina, Ohio, and West Virginia.
4:30PM Rob Portman wins in Ohio, a senate GOP hold.
4:30PM Chris Matthews points out the Iowa has Tom Harkin and Chuck Grassley, an odd combination. Ohio offers Sherrod Brown and Rob Portman. It is interesting.
4:34PM: Anderson Cooper is an amateur in the handsome borderline pretty boy department compared to Bill Hemmer. No guy should be that perfect looking.
4:37PM: Madcow attacks Portman and Coats. Another MSNBC analyst looks like Niles Crane from tv show Frasier.
4:41PM: On MSNBC, a man gives a bear hug to an actual bear. Ok, this turns out to be a commercial.
4:42PM: MSNBC, CNN, and Fox News are all on commercial. I should bring out my 4th tv and put on the Spanish station like I did in 2004. I do not speak Spanish, but the female announcers are smoking hot. The Spanish station was the only one to get it right in 2004 because they were unbiased. What did they care? It was not their country. They did a better job than our networks did in the 1990s covering Luis Donaldo Colosio in Mexico (Ernesto Zedillo won).
4:44PM MSNBC "analyst" Michael Isikoff cries over outside money helping Paul. No mention of Obama or Clinton union or Chinese money. At the next commercial MSNBC analysts get their diapers changed.
4:49PM: No matter what Eliot Spitzer says, it is hard not to giggle, especially when he talks about the stimulus package. I want to hear him talk about environmental policy and how he can reduce emissions. In a hilarious coincidence, the other tv shows a preview for "Sex and the City."
4:57PM: Juan Williams is on Fox News, because they actually allow diverse viewpoints. Also, every single MSNBC commentator appears to be a white male, including Maddow. This proves they are all racists. Fox News allows black people to speak.
5PM: Polls close in 15 states and DC. Now we get rolling.
5PM: Senate races come in. Chris Coons wins easily in Delaware. Wolf Blitzer makes a snide remark. Marc Rubio wins big in Florida. Kelly Ayotte wins in New Hampshire. Richard Shelby and Tom Coburn win in Oklahomand Alabama, not surprising. Barbara Mikulski wins. Maddow has an orgasm, although it is not sure if it is because she sexually desires Barbara Mikulski or Mr. Coons. Somehow she does not like Christine O'Donnell, who is much prettier. No changes to the power structure. The New Hampshire Governor's race is called for the Democrat with him only up 50-48% early.
5:06PM: Roy Blount defeats Robin Carnahan in the Missouri senate race.
5:07PM: MSNBC analyst Howard Fineman laments the loss of moderate Republicans, while not showing concerns over moderate Democrats. Johnny Isaakson wins the Georgia Senate seat, a hold.
5:10PM: The Democrat wins the lone Delaware house seat, a pickup for the Democrats. Keith Olbermann bashes the Tea Party movement and Christine O'Donnell, as does Madcow. Graciousness does not exist with these cannibals. They make plans to burn her in the town square, to keep in line with the witch jokes.
5:20PM: MSNBC calls the North Carolina Senate race for Richard Burr, a retention that should not have been that close.
5:30PM: Polls close in Arkansas, and other states. As expected, John Boozman trounced Blanche Lincoln, the 2nd GOP pickup. The Democrat Governor of Arkansas won easily. Bill Haslam helped the Republicans retain the Tennessee Governorship.
5:34PM: Joe Manchin wins the West Virginia senate seat, a major hold for Democrats.
5:38PM: Alan Grayson lost his Florida House seat, a pickup for Republicans and a victory for those who prefer decency over hatred. Grayson called his opponent a member of the Taliban. Grayson is a vile human being, and the reason one term should not mean a lifetime pension. Some house scum just got removed. Daniel Webster is the new limestone.
6PM: Polls close in Texas, Colorado, Michigan, Wisconsin, New York, and other states. Chuck Schumer and Kirsten Gillibrand retained their seats easily, and Andrew Cuomo did likewise as Governor. The nation moves right while the coasts move left. Gillibrand has to run again in 2012. Republicans easily win the North Dakota Senate seat, the 3rd GOP pickup. Sam Brownback wins the Kansas Governorship. Rick Snyder picks up the Michigan Governorship, the worst job in America and perhaps the only job left in Michigan under the destruction of Canadian Jennifer Granholm. John Thune won his South Dakota Senate seat, running unopposed, not normal for a senate race.
6:05PM–All 3 networks covering Rand Paul's victory speech. To make matters worse, none of them are in sync, making for a triple echo. Paul comes out firing.
6:07PM–Rick Perry kept the Texas Governorship in GOP hands.
Maryland Democrats held their governorship, while Republicans took back theirs in Oklahoma.
6:12PM–Brett Baier projects Republicans winning 60 House seats to take control. 60 seconds later MSNBC does likewise, projecting 55 seats. CNN projects at least 50 only 4 minutes later.
6:20PM–Joe Manchin on all 3 networks as MSNBC begs their fellow liberals on the West Coast to not get discouraged and still go to the polls. They do not show such concern when Republican turnout gets depressed.
6:27PM–Louisiana Senator David Vitter retains his seat. Fox News calls Barney Frank the winner of his reelection bid. Only CNN covers the Marco Rubio speech from the beginning. He clearly gets it right when he says that "this is not a great victory for the Republican Party. It is a second chance."
6:34PM–Johnny Isaakson easily wins the Georgia Senate seat, a retention. Keith Olbermann insults Christine O'Donnell right before her concession speech. As expected, she was as classy and dignified as Olbermann is hateful and vicious. Only Fox News does not cover her remarks at all.
6:42PM: Heineman retains the Nebraska GOP Governship.
6:50PM: Deval Patrick hangs on to the Massachusetts Governorship for the left.
6:57PM: Corbett wins the Pennsylvania Governship, a GOP pickup. The GOP with Haslam also picks up the Tennessee Governorship.
7PM: Nevada, Utah, Arizona, Montana, and Iowa polls close. John McCain and Chuck Grassley easily retain seats in Arizona and Iowa, not surprising. Iowa Governor Terry Branstadt is a GOP pickup. Matt Mead picks up the Wyoming Governorship for the GOP.
7:05PM–Rachel Maddow announces that she is 37 years old, which can be frightening for so many reasons. 5 minutes later she was still ranting.
7:09PM–Democrats hang on to the New Hampshire Governorship.
7:13PM–Chris Matthews tries to get Michele Bachmann to blunder on his show like last time. She did not take the bait. Matthews kept bullying, and Bachmann stayed on message. Matthews asked her if she was hypnotized, and under a trance. She responded that the people were coming out of their nightmare. Olbermann and Madcow laughed at the trance remarks, as if insulting people is the same as discussing policy. Matthews said she looked moronically, his typically moronic self. He was incensed that she kept treating his questions as irrelevant, which they were and he is.
---
Eric Golub is the author of The Tygrrrr Express. His books, Ideological Bigotry, Ideological Violence, and Ideological Idiocy are available now.