NY-17 Republican Candidate Anthony Melé Discusses How His Own GOP Chairman Falsified Military Records to Destroy his Campaign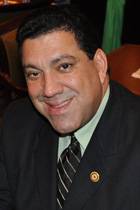 Anthony Melé took a few moments recently at the Capitol Hill Club in Washington, DC to recount a story about his recent race for U.S. Representative in the deep blue state of New York. His comments illustrate the kind of fight that conservatives will be up against in blue states as we approach the 2012 elections. Melé was the Congressional Republican candidate for the 17th Congressional District of New York. When running for public office, it can only be expected that political opponents will dig up dirt, however, according to Melé, his own party (the Rockland County Republican Committee) took it to a new level and attacked one of its own by falsifying records.
Melé is an Army veteran decorated for peace-time heroism. While stationed in Washington, DC as a member of the prestigious 3rd US Infantry [The Old Guard] Escort to the President, he saved a woman from drowning to death in the Potomac River and was awarded the "The Army Commendation Medal, 1st Oak Leaf Cluster" "for exceptional valor and intrepidity." However, according to Melé, during the NY-17 Republican Primary Race, his Republican Chairman Vincent Reda, Reda's colleague Brigadier General Arthur Jackson, and the primary candidate Reda was supporting, York Kleinhandler, worked together to discredit Melé's military record.
"What they did was, they sent out a letter to basically 1,000 Republican committee persons. The letter stated, signed by the General Jackson, that I was in violation of the Stolen Valor Act, which is a felony crime, punishable by jail and high fines, and among the military community is taken quite seriously for any person to pretend to wear medals and decorations that they did not earn."
Melé says the trio had obtained his military records, removed the part about his award, and then posted the military records on a phony military decorations site. According to Melé; Vincent Reda, Arthur Jackson, and York Kleinhandler admitted doing this and said it was just part of politics and winning an election.
Are Republicans really doing this in New York? Will we be seeing more of this in blue states as we approach the critical 2012 elections and conservatives attempt to rescue this nation?
Watch Anthony Melé discuss his experience in the video below, and follow TexasGOPVote for more posts and videos about his race and New York politics!