2010 November Elections, 130 Potential House Seats To Claim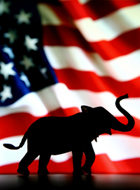 The victory of Republican Charles Djou in Hawaii's 1st Congressional District, a district that Obama carried by 70% in the 2008 election, can only foretell good things to come in November. The GOP must win 40 seats in the House of Representatives to reclaim control. House Republican leader John Boehner recently stated that the GOP could claim 100 seats in November, while RNC political director Gentry Collins said that Republicans have potential to pick up as many as 130 seats.
According to a Breitbart article:
Asked when the GOP will start to focus on races and cull the list to those most likely to produce Republican victories, Collins said it hasn't yet started.
"I've been expecting (the list) to shrink, to be candid with you. It's been growing," he said.
The bravado was pervasive as Republican state party chairs gathered outside Washington. They compared the political climate to 1994 when Republicans captured control of the House and Senate in President Bill Clinton's first midterm elections.
"We did not win control of Congress in 1994 because we put more precinct captains out on the field than the Democrats did," said California chairman Ron Nehring. "We did not win in '94 because of infrastructure. We won in '94 because we had a nationalized election because a Democratic administration and a Democratic Congress had vastly overreached in terms of their governing agenda. And there was a dramatic backlash."