Texas Legislature Opening Day - Phil King, Jim Murphy and Debbie Riddle Offer Their Insight (See Video)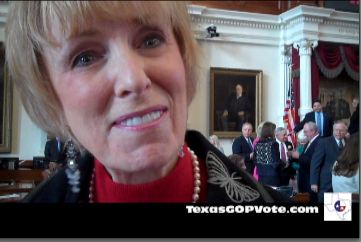 As the Texas Legislature was about to begin, Republican Representatives Phil King, Jim Murphy and Debbie Riddle paused to speak with me about the coming Speakers vote and legislative issues that were important to them to see through the upcoming session. TexasGOPVote was on the floor of the Texas House to bring the experience home to our readers. 
After these videos were shot, Mr. Paxton withdrew his name from consideration from the posting.  Instead a yea or nay vote was taking on the single nomination of Mr. Straus to be Speaker of the House.  Mr. King voted Nay, while Mr. Murphy and Mrs. Riddle voted yea. Mr. Straus was re-elected as Speaker by an overwhelming majority.
We will stay with our coverage of this important session from beginning to the closing gavel.