Who is Ken Paxton?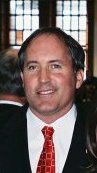 The following was sent in from a TexasGOPVote reader:
A lot of people are asking themselves: Who is Texas State Representative Ken Paxton?
State Representative Ken Paxton was elected to the Texas House of Representatives in 2002 and recently ran unopposed for re-election this year, winning his fifth term in office representing District 70. Ken Paxton received his BA and MBA from Baylor University. Rep. Paxton also earned a law degree from the University of Virginia Law School in 1991. Paxton is 48 years old. He received more general election votes than any other state representative in 2004. Additionally, he was twice named "Texas Taxpayer Hero" by Texans for Fiscal Responsibility and he was named to the Texas Association of REALTORS Legislative Hall of Fame. His district includes Allen, Celina, Frisco, McKinney, and Prosper in Collin County. Last year, Rep. Paxton said he would be interested in running for the state Senate seat of Florence Shapiro, R-Plano, should she move on. Rep. Paxton currently resides in McKinney, Texas with his wife Angela and their four children. Rep. Paxton is an attorney in private practice in McKinney. He is a member of the Allen Chamber of Commerce, Centennial Medical Center Board, Collin County Bar Association, Dallas Estate Planning Council, Frisco Chamber of Commerce, Marketplace Ministries Board of Directors, McKinney Chamber of Commerce, McKinney Rotary, and Stonebriar Community Church. Those who know Rep. Paxton know he is a man of integrity and reflects the conservative values of Texans.
Representative Jodie Laubenberg just released her endorsement:
http://www.scribd.com/doc/42082380/Laubenberg-Endorses-Ken-Paxton-for-Speaker
Rep. Laubenberg, who represents District 89- Rockwall and Collin Counties, has worked closely with Rep. Paxton as a member of the Collin County delegation. Laubenberg said:
"Ken and I came to the Texas House together back in 2003 and since that time he has become one of my closest friends. Ken is one of the most admired, respected, and hardworking legislators in Austin. His commitment to conservative principles is unquestionable, and his integrity is indisputable. Over the past several weeks, I've listened to my constituents who have said they want a conservative speaker. My constituents worked hard to elect a strong Republican majority and they have the right to have a voice in selecting our next speaker. They hold the utmost respect for Ken Paxton, and I agree with them wholeheartedly. Ken has the intelligence, the leadership skills, and the tenacity to get things done. He knows the value of building strong relationships. He treats the legislative process and all involved with the greatest respect. Ken has all of the qualities necessary to make an excellent Speaker for the Texas House."
Rep. Paxton's article "Texas Needs Strong, Sound Fiscal Policy":
http://www.texasinsider.org/?p=5243 
Rep. Tan Parker has released his endorsement:
http://trailblazersblog.dallasnews.com/archives/2010/11/endorsements-trickle-in-as-rep.html
Former Congressman Dick Armey released his endorsement: 
http://blogs.chron.com/tubular/archives/2010/11/exclusive_dick.html
And of course, many of us Texans remember well the open letter Rep. Paxton wrote back in September of 2009 to welcome Speaker Pelosi to Texas. This is the letter: 
Welcome to Texas, Madame Speaker: An Open Letter to Nancy Pelosi
Dear Madame Speaker,
I want to be one of the first to welcome you to Texas for your fundraising visit on Saturday in Austin. You should feel at home as you drive from the airport to your event, passing by businesses that were once located in your home state of California and being greeted by the smiles of friendly Californians who now call Texas home.
I understand that you will be here to accept donations for the Democratic Congressional Campaign Committee. Texas is an excellent venue for such an event, as workers in our state still have jobs and discretionary income. In addition to taking Texas money back with you to Washington, I would like to respectfully request that you also carry back some insight for your colleagues that you may personally witness during your visit to our state.
Since your party gained control of Congress and the White House, you and your colleagues have proposed federal policies that look like the policies that have recently been used to govern California. I understand you spend most of your time in the Beltway, so let me help you become reacquainted with your home state.
California's unemployment rate is teetering on 12%, which is more than two points higher than the national average. California is currently struggling to close a $24.3 billion budget gap, partly caused by a decrease in revenue from the personal income tax. California lawmakers are looking to further increase income taxes on the middle class to make up the difference, just as you and your colleagues are proposing to fund your health care proposal. Rather than taking more money out of the pockets of taxpayers, may I suggest another solution?
Texas, which has a 7.5% unemployment rate (two points BELOW the national average), was affected by a slowing economy after 9/11. During the 78th Legislative Session, Texas faced a $10 billion shortfall. By cutting expenditures and passing a responsible budget, the Legislature managed to cover our state's expenditures for the biennium without raising taxes and without dipping into our "Rainy Day Fund." Furthermore, because of our business-friendly policies, our economy recovered, and we ended our next Legislative session with a $14 billion surplus. Last year, more jobs were created in Texas than in the other 49 states COMBINED. Did I mention that we don't even have a state income tax?
With all due respect, Madame Speaker, the harsh regulations on businesses, as found in your Cap and Trade bill, and increased taxes on individuals and businesses, as found in your Health Care proposal, will not help our country recover from this economic downturn. Additionally, a vibrant economy lies not in handouts or bailouts, but in sound and responsible fiscal policies that encourage growth and opportunity. Rather than relying on the power of government, I believe we should rely on the power and creativity of the American people. Please take a close look while you are in Texas and suggest to your colleagues that Congress should re-focus its priorities by promoting policies that allow businesses, families and individuals to thrive without additional financial burdens and bureaucratic restrictions that lead to job loss and increased prices.
Regards,
Ken Paxton
We can see why this is the kind of leader we need as a Speaker of the House in Texas. He has the respect of his colleagues; Representative Ken Paxton is clear and firm in his solid conservative principles. Yet he is POLITE and RESPECTFUL, characteristics essential for a Speaker of the House.