The Danger of a Runaway Grand Jury
The Devine camp continues to throw poison darts into the minds of Texans against Justice David Medina. Devine's followers and supporters are more of a 'cult' than just conservative Republicans. These so called supporters were either misled or support this kind of malicious behavior. Christians don't throw their Christianity around just to prove they are Christians. Personally, this is the most sordid and convoluted case I have ever researched.
A video highlighting the foreman, Robert Ryan, of the Medina grand jury recently released, spews acid words about the grand jury process and Justice Medina. Also in the video is Jeff Dorrell, the assistant foreman. Did anybody bother to find out who these two people are? Who is the Texas Alliance for Ethical Government? Is this another 'mysterious' website. Is everything connected to the Devine camp a BIG LIE?
The other curiosity is the fact that in the video, an old resolved case is addressed pointing a finger at our Governor Rick Perry, which has absolutely nothing to do with the Medina grand jury case. It is interesting to note that the persons involved in promoting the video viciously blogged against Governor Perry's bid for the presidential nomination.
The following is information found on the KTRK TV website. The news story,'Did a grand jury foreman say too much?' by Ted Oberg on July 9, 2009 reveals much about the character of the grand jury foreman Robert Ryan.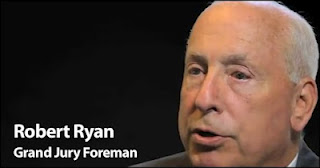 ROBERT RYAN: Houston Real Estate Broker enjoys buying and selling antiques. In fact, the Medina grand jury case is not the only grand jury in question involving Ryan. In the case of Jerry and Wynonne Hart, their sentence was appealed and a new trial reopened because of damning evidence discovered. IF you were indicted and a grand jury was hearing your case, how would you like to have someone like Ryan be the foreman? So in his own words, he had an agenda: take revenge on the Harts.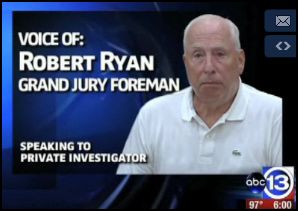 Listen to Robert Ryan
http://abclocal.go.com/ktrk/story?section=news/in_focus&id=6907734
Ryan who was also the foreman of the Hart grand jury was stupid enough to reveal to a private eye through a phone conversation that, "I was the foreman of the grand jury and it's my signature that indicted him," Ryan could be heard saying on the tape.
"I bought stuff there. I sold stuff there, but one incident that particularly pisses me off, galls me, was probably in the middle to late 80s," said Ryan on the tape.
"I must admit I took some glee in signing that indictment," said Ryan.
JEFF DORRELL: Is a civil attorney in Houston and supports gay rights. He is also the past president of the Log Cabin Republicans. According to the article, Dorrell's agenda was against Chuck Rosenthal, former Houston District Attorney, involving the 2003 sodomy law argued before the US Supreme Court.
On a more positive note Justice David Medina has the endorsement of the San Antonio Express News. I don't normally agree with their endorsements, but this time I agree as to the reasons the endorsement went to Justice Medina. Devine's claim to fame is hanging a painting by Pat Young of the Ten Commandments in his office. Devine's behavior during this campaign is definitely unbecoming of a judge and should never sit on the Texas Supreme Court. Justice Medina a jurist in his own right should be reelected.
Medina preferable in high court race
Devine is touting his position on a wide array of issues as if he were running for the Legislature. Devine's approach is unbecoming of a judge, and his campaign raises serious questions about his ability to be impartial.
http://www.mysanantonio.com/opinion/editorials/article/Medina-preferable-in-high-court-race-3714081.php
Lawyer, jurors spar over Texas high court judge's indictment
Rosenthal, he added, argued before the U.S. Supreme Court in defense of the state's now-defunct sodomy law in 2003. That may have made him a target for Dorrell, a former Log-Cabin Republican president who, Yates said, led an effort to strike down the sodomy law.
http://www.chron.com/news/houston-texas/article/Lawyer-jurors-spar-over-Texas-high-court-judge-s-1753580.php
Did a grand jury foreman say too much?
"People want to think the grand jury is fair and unbiased," said Harris County District Judge Jim Wallis. "Juries determine probable cause to believe an offense was created and should never base that indictment on grudges or facts that would cause him to have a bias."
http://abclocal.go.com/ktrk/story?section=news/in_focus&id=6907734
RED SONJA TEXAS RUN OFF ENDORSEMENTS
http://redsonja-conservativesinaction.blogspot.com/2012/07/red-sonja-texas-run-off-endorsements.html