Democrat Texas CD-34 Candidate and Cameron County DA Armando Villalobos Under Investigation for Racketeering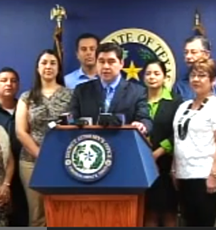 Cameron County deserves better than this!
In a press conference Monday morning, Armando Villalobos, Cameron County District Attorney and Democrat Candidate for Texas Congressional District 34, confirmed that hes under federal investigation regarding the Abel Limas corruption scandal. Abel Limas, a former Judge for the 404th State District, and nine others have been indicted in federal court for their roles in a cash for court favors scheme.
At this time, Villalobos maintains his innocence but cannot explain or refute the allegations.
Adela Garza, Republican Candidate for Texas CD-34, remarks: "Our officials and public servants have failed to represent us with honesty and integrity. For 36 years I have served, been appointed, and been elected to positions in our community that require the highest level of integrity and honesty. That is why I am running to represent Congressional District 34. I am a candidate you can trust. Vote for dedicated service. Vote for proven honesty."
With the Primary less than a month away, isnt it time we vote out corrupted politicians? South Texas deserves public servants with integrity. 
---
Related Content:
South Texas Democrat District Attorney Armando Villalobos Indicted by Federal Grand Jury - Democrat Candidate for CD 34
Spotlight on the New Congressional District 34 in South Texas