ESPN Engages in Political Censorship - No Voter Registration Drive for NASCAR Fans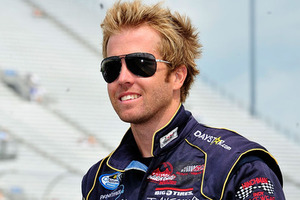 When NASCAR driver Blake Koch joined with his sponsor, Rise Up and Register, he thought he could have a positive impact on the 2012 elections by registering one million NASCAR fans to vote. ESPN has other ideas. ESPN rejected his advertisement on the grounds of religious and political overtones.
Watch the following ESPN banned commercial and you will see there is no religious or political overtone. It is simply a request for fans to register to vote.
So... Here's a couple of questions for ESPN. Are you trying to stop conservative NASCAR fans from being registered to vote? Or, is this yet another attack on an athlete who is not afraid to express his Christian beliefs?
Clearly there is no religious message in this advertisement. Yet, when the ESPN official contacted Koch and left a voice mail message, he said the ad was being denied because of political and religious overtones. He also stated it was because of Koch's racing website. The website contains an "Outreach" page which expresses his religious beliefs.
The ad also does not contain political overtones. It is simply a non-partisan request for fans of NASCAR to become registered to vote. Should ESPN have any problem with that? No they shouldn't... UNLESS what they really object to is the fact that NASCAR fans tend to be conservatives and ESPN apparently does not want conservatives registered to vote.
This all seems to be part of the media's continuing war against conservatives and particularly against Christians. Previously, we reported about NBC and "Saturday Night Live" attacking Christian NFL player Tim Tebow. Why is the media obsessed with attacking Christians for their beliefs? But more importantly, why do we continue to support these commercial networks who continuously attack our values and principles?
Click Picture to visit website for details
The Rise Up and Register ad urges fans to get involved in the registration drive by texting the message "USA" to 41600. By doing so, you will show your support of the effort to register more conservative NASCAR fans to vote AND you will be registered to win the car shown in the photo. Koch says he will deliver the car personally to the winner!
While you are at it, let ESPN know you don't appreciate either their political censorship or their attack on Christianity. And don't forget to RISE UP AND REGISTER to vote!