Former Highland Village Mayor Dianne Costa Announces Candidacy for Texas U.S. Congressional District 25
Former Highland Village Mayor Dianne Costa has officially announced her candidacy for Texas U.S. Congressional District 25. On July 27, 2011, Costa filed FEC Form 1 (Statement of Organization) which establishes her campaign committee with its requisite named treasurer, address etc. and FEC Form 2 (Statement of Candidacy) which designates her principal campaign committee. 
The newly redrawn District 25 encompasses all or portions of 13 counties (Hays, Travis, Burnet, Lampasas, Coryell, Bell, Hamilton, Bosque, Erath, Somervell, Hill, Johnson, and Tarrant).
In Dianne Costa's DCtoDC Journal, she writes:
As your next Republican Congresswoman representing the great State of Texas in Washington D.C., I will work with my constituents to recapture our exceptional America! As a proven leader in Municipal government, the government closest to the people, I had the awesome responsibility as Mayor to bring transparent, accountable governance.

By maintaining a balanced budget our citizens were insured that they could expect of their city government the same basic processes that we are all required to follow in our own businesses and households.  When sent to Washington I will demand that the overspending be put to an end, that there be caps on our spending, supporting a sustainable fiscal path. I will vehemently defend a constitutional amendment of balancing the budget.
Dianne Costa holds strong pro-life and pro-family values and will fight for American exceptionalism and freedom. 
This is not a time for weak leadership. Leadership is a decision not a destiny. Washington will know when Congresswoman of District 25 Dianne Costa has arrived. I will not be bullied, intimidated or discarded.
Dianne Costa is among five candidates. Michael Williams recently said he was also running for District 25 after pulling out of the District 33 and Senate races; however, he is not listed in the FEC site for District 25.
Texas Congressional Map for the 2012 Elections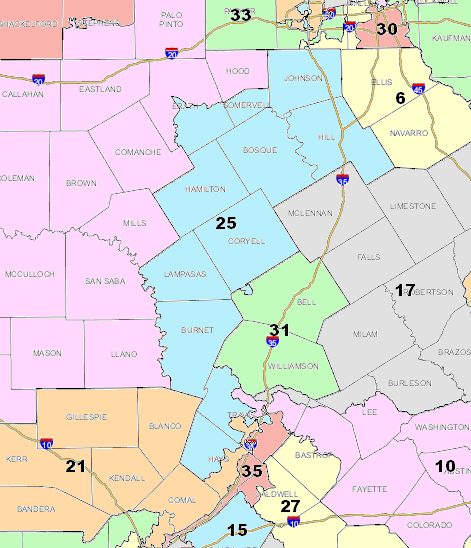 Texas Congressional District 25