Herman Cain Answers Questions from TexasGOPVote at The Woodlands Barnes and Noble Book Signing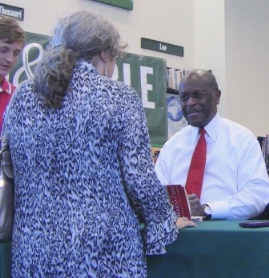 Last week in The Woodlands, Texas Barnes and Noble bookstore, Republican Presidential Candidate Herman Cain took questions from the Houston news media and from TexasGOPVote.  Mr. Cain was in Texas promoting his new book, This is Herman Cain! My Journey to the White House.  Mr. Cain was greeted at the store by a bevy of reporters and around 1,500 happy supporters who stood in line for hours to get their books signed by a man many believe will be the next President of these United States.  
The store was sold out of books from the night before the event. Prior to the book signing, Mr. Cain took questions from the Houston media, including me representing TexasGOPVote.  He took five questions, two of which were mine.
In my first question I stated that the Obama Administration says the border with Mexico is secure.  I said that Texans don't believe that to be true and that not many Americans did either.  I asked him what a secure border would look like under a Cain Administration.  Here is what Mr. Cain had to say...
"We must first secure the border for real. It is not secure," Cain said. "Secondly, we must promote the path to citizenship that's already there. We don't need a new path to citizenship. We don't need amnesty. We need to get rid of the bureaucracy of Washington, D.C. so people will be encouraged to come to the front door instead of the back door.
"Third, we need to enforce the laws that are already on the books and, fourthly, the way you enforce the laws that are already on the books? Empower the states to do what the federal government is not doing."
Notice that while Mr. Cain had a very complete statement to put forward that was very exciting to the crowd in attendence, he did not answer my question about what a "secure border" actually means.  Is this the answer of a businessman as Cain likes to portray himself, or is this a "politician's" answer? Mr. Cain says in his first part that "We must secure the border for real. It is not secure." So, Mr. Cain, I will ask the question again.  What does a secure border mean under a Cain Administration?
Life along the Texas Border is very difficult for those who must live there and especially for those who must make a living farming or ranching in this region. Following is a video released by the Texas Agriculture Commissioner, Todd Staples, where several farmers and ranchers describe what their life along the border is like.  
The people who live and work along these dangerous borders deserve a secure border so they may live and work in safety.  They deserve a real answer from a person seeking to be in charge of fixing this serious problem.
Other reporters asked Cain about his lack of experience to be President of these United States.  Funny they didn't ask that of the current occupant of that high office prior to his election. Maybe we are learning to ask better questions.  Or, perhaps, the media only cares about experience if the black man that is running for office is a Conservative.  Mr. Cain had a very solid answer for that question which was also well received by the audience.
He was also asked about his thoughts on the passing of Steve Jobs. Mr. Cain said "We have lost one of the greatest men this country has ever seen."  The final question was mine and I asked Mr. Cain about the danger in his 9-9-9 plan where we would create a new sales tax to put put alongside the incomce tax and not instead of an income tax.
Cain said a two-thirds majority vote in the Senate would be required to change the legislation, and believes the "American people would hold our feet to the fire."
He went on to talk about "sneak a-taxes"  A catchy phrase that is very accurate about how the government sneaks taxes in to your monthly bills in the form of fees and hidden taxes.  "They won't be able to pass a lot of 'sneak a-taxes' like we get today," Cain said.
"Take President Obama's 'jobs proposal' that he keeps trying to sell. We went through his proposal. He has 84 'sneak a-taxes' buried in that legislation…This is why most Americans don't know that they've been bitten by another tax until they've been bitten, and that's what's wrong with the current tax code."
Following is the video of the entire interview of Mr. Cain by the media where you can see how he responds to these questions.  There is also an interesting interaction between Cain and his fans just prior to the "media gaggle".  Enjoy...
One thing is certain, Mr. Cain is a rising political star. His popularity is growing daily and he will most likely face tougher questions in the next presidential debate.
Following the media gaggle, Mr. Cain sat down and began the process of signing over 1,000 books for fans, supporters and others who just want an autograph from a man who could become President.
At the end of the day, I was very impressed with Mr. Cain. He is a genuinely nice man and would bring solid business principles to the Oval Office should he be elected. He needs better answers for specific questions.  Having said that, and in fairness to Mr. Cain, in a "media gaggle" like this, the media is looking for short sound bites where as I was looking for a more specific answer.  I hope to get the opportunity to ask my question again in an environment that would lend itself to a more complete response.