Interactive Realtime Map of Iowa GOP Caucus Results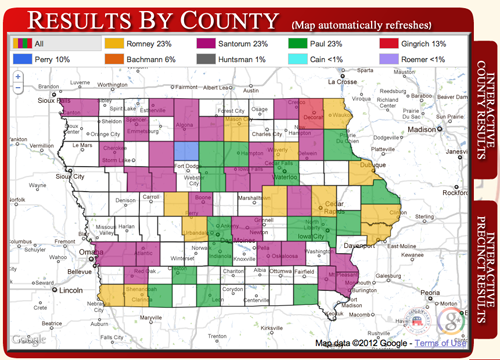 Thanks to the Iowa GOP, under the Chairmanship of Matt Strawn, TexasGOPVote readers can follow the results of the 2012 Iowa Republican Caucuses as they happen. The interactive maps display color-coded results for all 99 counties and includes a summary of the aggregate results for the state. Individual county results can be viewed by hovering over any county, which displays the breakdown of the vote in that county for all seven candidates. As if 9PM CST, the results listed for the state showed Santorum and Romney at 24%, Paul at 22%, Gingrich at 13%, Perry at 10%, Bachmann at 6%, and Huntsman at 1%.
Thanks to the Iowa GOP for providing this quick and convenient tool for following the results directly from the source!
To learn more about how Caucuses and Primaries operate, click here.
CLICK ON THE MAP BELOW FOR THE LIVE UP-TO-DATE RESULTS.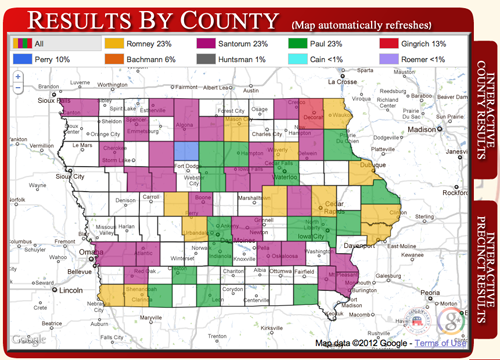 ---
Related Content:
Gingrich, Not Romney, To WIN: Buckley Rule Still Applies, But The World Is Very Different