Justices David Medina and Don Willett are Conservatives on Texas Supreme Court - Election 2012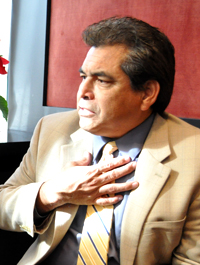 The Texas Republican Primary Election is FINALLY here.
There are many very important races all across the State of Texas. There are important local/county Republican races (like sheriff) all the way up to important national Republican races (like US Senate).
Many voters in Texas tend to get tunnel vision on the local races around them.
We MUST fight off the tunnel vision though because there are SEVERAL important races that many voters ignore or do not even know about.
The Supreme Court races are extremely important but get little attention compared to other races.
People should care though! This is the Supreme Court of Texas and very important decisions that affect all Texans are made there.
We currently have a conservative majority on the Texas Supreme Court. This is very good because we all know how bad liberal judges can be when they try to force their liberal agenda onto the people by legislating from the bench.
Justice David Medina and Justice Don Willett both face challengers in this years Republican Primary Election.
I do not hesitate to oppose an incumbent if I believe the incumbent is not a conservative or not acting like a conservative. That being said, I have not heard any reasons as to why Medina or Willett should be replaced. They are part of the conservative majority on the court and no one has shown me where they have ruled using liberal values instead of ruling using conservative values. The only argument I have heard is that the current Texas Supreme Court might be too business friendly, but even that argument does not have any facts to back it up to show me how this court is not acting conservatively in specific rulings.
I Support David Medina and Don Willett for re-election to the Texas Supreme Court.
I have not had a chance to talk to Justice David Medina, but I have reviewed his credentials and my friend Adryana Boyne, National Director of VOCES Action sat down and had a great interview with him for TexasGOPVote. Something that really got my attention about David Medina is his strong stance against legislating from the bench and instead just following the law. This is what Justice Medina had to say to Adryana in his interview, "My judicial philosophy is one of a conservative. I have a very conservative judicial philosophy, and that simply means that I am there to interpret the law, interpret the statutes as it's given to us by the Legislature. I don't write the law, I'm not the author of the law. If the legislature gives us a statute we apply the strict meaning, give the words the simplest terms and apply that meaning. We don't try to create and shape a meaning the way I think it should turn out. I just want to interpret the statute, and sometimes the court doesn't necessarily agree with the statute, but it's the statute that's given to us, and if it has to be changed, the Legislature can change it. Of course if there is a challenge to the Constitutionality of a statute, then we'll look at that as well, but I believe in stare decisis which means that we take these cases and if there is a history of the case being, the law being a certain way, then we try to follow that law..."
One of Justice Medina's challengers is John Devine. John Devine stood up for the Ten Commandments in his state courtroom. I think that is great, and I am sure he is a good guy, but I believe David Medina would do the same if put in that position. David Medina has served us well, and no one has shown me evidence to the contrary. Medina is more qualified and has been endorsed by several well recognized organizations and people like Texas Right to Life, Conservative State Senator Dan Patrick and Conservative Land Commissioner Jerry Patterson. You can read the full list of David Medina's endorsements here.
I have had the opportunity to talk to Justice Don Willett and have reviewed his conservative credentials. He is a strong conservative and a strong Christian with good values. His re-election has received a lot of attention and just about every conservative and Christian organization has thrown their support behind Justice Willett, including Texas super-hero conservative Attorney General Greg Abbott. Even nationally known figures are speaking out in favor of Justice Willett like Christian leader James Dobson. You can read the full list of Don Willet's endorsements here.