List of Conservative Wins and Losses in Congress - Republicans keep control of U.S. House Of Representatives - 2012 Election Results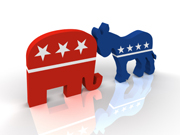 Obama might have won the Presidency but thankfully he will still not have control of the United States House of Representatives. Democrats do still control the U.S. Senate though. If Republicans in Congress stick together, they can hopefully slow down Obama's path of destruction.
Here in Texas we have a super Conservative new United States Senator Ted Cruz. Right here in southeast Texas, we got 2 new very conservative Congressmen, Steve Stockman and Randy Weber.
I had the pleasure of spending election night at the Ted Cruz and Steve Stockman Victory Parties last night. Even though we lost the Presidency, it was very exciting to know that we have strong conservatives in Congress representing us and hopefully holding back Obama's destructive ideas.
2012 November 6 General Election Results - Conservative Wins and Losses:
CONSERVATIVE WINS
U. S. Rep. Michele Bachmann (R – MN)
U. S. Rep. Eric Cantor (R– VA)
U. S. Rep. Steve Chabot (R– OH)
Ted Cruz for U. S. Senate (R – TX)
U. S. Rep. Jeff Duncan (R– SC)
Deb Fischer for U. S. Senate (R - NE)
U. S. Rep. Jeff Flake for U. S. Senate (R – AZ)
U. S. Rep. Trent Franks (R– AZ)
U. S. Rep. Louie Gohmert (R – TX)
U. S. Rep. Duncan Hunter, Jr. (R – CA)
U. S. Rep. Jim Jordan (R –OH)
U. S. Rep. Steve King (R –IA)
U. S. Rep. Bob Latta (R –OH)
U. S. Rep. Tom Marino (R –PA)
U. S. Rep. Joe Pitts (R –PA)
U. S. Rep. Steve Southerland (R – FL)
Steve Stockman for U. S. House (R – TX)

U. S. Rep. Tim Walberg (R – MI)
U.S. Rep. Randy Weber (R - TX)
U. S. Rep. Daniel Webster (R – FL)
U. S. Senator Roger Wicker (R – MS)
U. S. Rep. Joe Wilson (R –SC)
U. S. Rep. Rob Wittman (R– VA)
U. S. Rep. Jeff Landry (R– LA) – tied with Boustany, run-off on Dec. 8
CONSERVATIVE LOSSES
U. S. Rep. Todd Akin (R -MO)
U. S. Rep. Ann Marie Buerkle (R – NY)
Chris Fields for U. S. Rep. (R – MN)
Josh Mandel for U. S. Senate (R – OH)
Richard Mourdock for U. S. Senate (R – IN)
U. S. Rep. David Rivers (R– FL)
Kenneth Timerman for U. S. House (R – MD)
U. S. Rep. Allen West (R –FL)