Texas Beware - Julian Castro Predicts TX Goes Blue
COUNTIES INTERACTION MAP
click to See how your county voted
http://elections.nytimes.com/2012/results/president
I am extremely proud to be a native Texan. I love where I live between the hills and along the Guadalupe River where I feast my eyes every day. The other blessings are the conservatives that fill the area. We just received a report that we had 66% turnout and over 75% of the votes went to Governor Mitt Romney for president in Comal County. Republicans won every spot in the county races. So YES, we cling to our guns and our religion, but there is trouble brewing…
I am just as proud of my heritage and what each, Mexicans and Germans, brought to Texas. It seems that the immigrants of long ago were willing to work hard to attain the American dream. My German grandfather worked for the Southern Pacific in the late 1800's and when he retired, refused his pension. He wrote in one of his journals that if he wasn't working he did not deserve to be compensated. Those were the men and women of yesteryear. They were willing to sacrifice. Today, 2012, it seems that the work ethic has all but disappeared.
Texans must take extra care that our conservative values do not erode with the influx of all the 'new' people coming to find jobs and settling in Texas. Texas had a great turnout and our state turned a beautiful crimson red on Tuesday night with 13 blue stains in counties along the Mexican border and a few other light blue areas. No Democrat has won a statewide election since 1994. But we should be careful not to be so confident that the situation in Texas changes. Remember that America did not see Hugo Chavez as a threat and Rush Limbaugh asked his audience to 'crossover' for Hillary so Obama would not get nominated in 2008. Many of our Republican candidates suffered defeat because of this crossover.
Obama has set his heart on having Texas and he thinks he has found a way to obtain our red state….through the Castro brothers, specifically Julian Castro. The Pre-K initiative passed in San Antonio that will probably be challenged on its constitutionality is the ticket Julian needs to glow in the dark.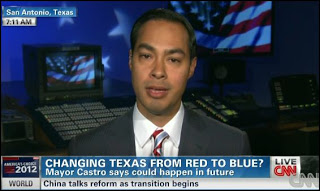 WHY IS TEXAS NOT A BLUE STATE? "I think when you have that ground work and when you have the right candidates to excite folks, then you're going to start to see progress and within the next six to eight years, I believe that Texas will at least be a purple state, if not a blue state," Castro said on CNN's "Starting Point with Soledad O'Brien."
http://politicalticker.blogs.cnn.com/2012/11/08/julian-castro-predicts-big-change-in-texas/
Julian Castro predicts big change in Texas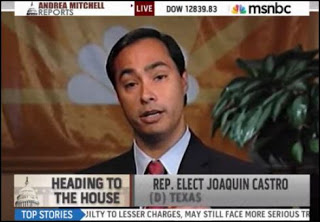 Castro, who gave the keynote address at the Democratic National Convention in September, argued the GOP's "tone on issues like immigration" and Republican positions against the 2010 health care law have turned Latinos away from the party. The new law, he says, will cover nine million more Latinos, which he called a "big deal" for a demographic that largely relies on the emergency room as "their primary care physician."
Deep divide within the House
http://video.msnbc.msn.com/mitchell-reports/49747151/#49747151
http://politicalticker.blogs.cnn.com/2012/11/08/julian-castro-predicts-big-change-in-texas/
Bexar County did not fare so well in Tuesday's election. This was predicted as the Express n News endorsed Obama. In a city dominated by Hispanics the Republican Hispanics were crushed. In Bexar County Obama won with 263,871 or 51.5% of the vote while Romney garnered 240,519 or 45% of the vote. The Archdiocese of San Antonio is the seat of a 17 county area with over 702,000 Catholics. Out of the 17 counties three voted for Obama including Bexar County. So in a city where Catholics abound, the Catholic vote was lost to the Democrats.
There may be other heroes but for my article I will point out the hard work of two men. Phil Sevilla, President of the Texas Leadership Coalition because he did everything he could to inform the Catholics of their duty to vote their faith. The other is Weston Martinez founder of the Texas Freedom PAC who relentlessly supported the Hispanic Republicans. Both men knew it was an up hill battle but they pursued anyway.
The Hispanic Republican candidates that I favored and did not win are: Alma Perez Jackson HD125 to Justin Rodriguez
Col Robert Casias HD118 to Joe Farias
Michael Berlanga SD19 to Carlos Uresti
Not only did the Hispanic candidates not make it but incumbents John Garza HD117 was clobbered by Philip Cortez and Congressman Quico Canseco CD23 lost to Pete Gallego who flaunts his Catholic faith. David Rosa who campaigned for Congressional District 20 was hammered by Joaquin Castro, brother of Julian Castro Mayor of San Antonio. This is a strong indication that there is a problem with the Hispanic Catholic vote.
Former Bexar County Republican Chairman, Roy Barrera, jr and Commissioner Kevin Wolff with ousted Texas Senator Jeff Wentworth campaigned for Democrat Judge Larry Noll and by so doing sacrificed the rest of the judgeships. The only Judge to be re elected with a razor thin margin was Judge Laura Parker of the 386 District Court.
Incumbent Republican Judges who lost their races were Rene McElhaney of the 73rd District Court, Victor Negron of the 438th District Court and Juanita Vasquez-Gardner 399th District Court. Republican candidates for judgeships were lost in the shuffle by an electorate that does not understand their significance. Visiting Judge Mark Luitjen and Republican Attorneys Art Rossi and Joseph Appelt lost to their Democrat opponents. The biggest loss was in the 4th Court of Appeals where incumbents Steve Hilbig Place 4, Rebecca Simmons Place 3, and Phylis Speedlin Place 7 lost to virtually unknown Hispanic Democrats. This is a tremendous loss to the citizens in 32 counties who will now be dependent on judges with little or no experience.
REMEMBER THAT IT WAS THE REPUBLICAN LEADERSHIP IN BEXAR COUNTY THAT SUPPORTED ONE DEMOCRAT JUDGE. THEY ASKED THE CITIZENS TO CROSSOVER AND THE REPUBLICAN JUDGES LOST IN MASS TO SAVE ONE DEMOCRAT JUDGE LARRY NOLL. Democrats do not need to be 'saved' in Bexar County they need to be ousted!
OTHER CANDIDATES I FAVORED
Even Ted Cruz our new Texas US Senator did not win in Bexar County. Neither did Susan Narvaiz as she lost to Lloyd Doggett going for the newly redistricted Congressional District 35. Charlie Garza SBOE member District 1 lost because of redistricting. On a positive note the other Republicans that I favored and won their races did extremely well. Dr Donna Campbell is our new Texas Senator from Senate District 25 and incumbent Ken Mercer SBOE member District 5 won reelection. All the Republican Incumbent Judges David Puryear, Jeff Rose, Bob Pemberton and candidate attorney Scott Field won in 3rd Court of Appeals. Thank you Comal County!
The pundits are going to hash and rehash why Mitt Romney lost since he should have won. Nation wide the Hispanic vote favored Obama 71% to a mere 27% for Romney. In Texas there should be no doubt. We must address the Hispanic Vote because Obama will work to turn our state BLUE using the Hispanic Vote. La Raza will move to San Antonio just for the purpose of turning our TEXAS RED STATE TO BLUE. Don't think it won't happen…because then it will. You have been cautioned!
RED SONJA 2012 ©
PRAY, FIGHT, NEVER GIVE UP!