Texas Supreme Court Justice David Medina: A Justice with a Conservative Judicial Philosophy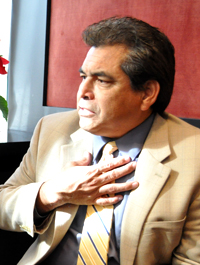 During a recent visit to Dallas by Texas Supreme Court Justice David Medina, I had the pleasure to interview him at an informal setting at MAXIMO'S restaurant.
Texas Supreme Court Justice David Medina is running for re-election this year. Justice Medina has been doing a great job, his judicial philosophy is conservative, he holds strong conservative values and has great experience and integrity. I encourage every voter to re-elect him for the Texas Supreme Court, Place 4.
As we all are aware, redistricting has been the main cause of postponing the date of the Texas primaries, and as of now, April 3rd is the date we have for the primary. However, there may be another change, so please be checking for a possible change. Justice Medina has two challengers at this primary, and we invite all our readers to remember to vote at this primary. Please get to know Justice Medina and be sure to go to his facebook page and "like it".
I asked Justice Medina about his judicial philosophy, the origin of his conservative values, his strong Texas roots, his children, the miracle of life of his youngest child, and his love for martial arts. He gave advice to young people to become educated and reminded us, as his good friend Joe Peña said, that education is the key for success and that Hispanics are important to Texas.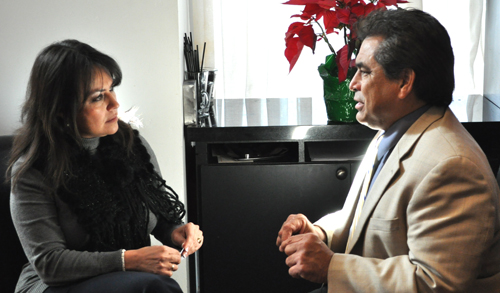 Justice Medina, a former Harris County state district judge, succeeded Wallace B. Jefferson in Place 4 after Jeffersons appointment to be Chief Justice. Gov. Rick Perry appointed Justice Medina, who was the governors general counsel since January 2004.
Before that, he was associate general counsel for Cooper Industries Inc. in Houston and served on the Harris County bench in 1996-2000 after appointment in May 1996 by then-Gov. George W. Bush. He was elected in November 1996 and again in November 1998.
Justice Medina was born on Galveston Island, attended public schools in Hitchcock and graduated with a bachelor science degree from Southwest Texas State University in 1980 (now Texas State University-San Marcos). In college he competed on the universitys karate and baseball teams and was on the Deans List. In 1989 he earned his law degree from South Texas College of Law. He was on the Deans List and a member of the American Bar Association Regional Moot Court National Championship Team.
He joined Cooper Industries in 1987 and was promoted to litigation counsel upon his graduation from law school. Governor Bush appointed him to the 157th State District Court. The Houston Bar Association voted him as one of the top jurists in Harris County.
He rejoined Cooper in 2000 as associate general counsel for litigation, responsible for supervising Coopers litigation and product-safety matters throughout the world.
Justice Medina is a former Board Member of Habitat for Humanity and Houston Metro. He currently serves on the Board for the Spring Klein Baseball Association. He is also the manager of his sons Select baseball team and has served as an adjunct professor for South Texas College of Law, where he taught advanced civil trial litigation.

Full Transcript from Interview:
Adryana Boyne: You are one of the Justices of the Texas Supreme Court, and I was just wondering if you could share a little bit with the audience. How long you have you been on the Texas Supreme Court?
Justice David Medina: I have been here seven years this past November, November the 4th is when Governor Perry appointed me. I was appointed to fill a vacancy, and then I had to run for re-election in 2006. In 2006, I ran statewide and of course won, and now I am up for re-election, and we have a primary that was originally scheduled for March as you know, which has been moved to April the 3rd, so I have an election and I am going to work hard and try to do something no other Latino Republican has done, and that is win re-election on a statewide basis. Thats a challenge that I have, its a challenge that I embrace, you know and I can hear the voice right now of Joe Peña, got to get out there hard, you got to work hard, you can do it. You know the (? 1:04 Stew) is help, I became the first Republican Judge elected countywide in Harris County. So that is all part of Joes legacy. Not only with me but I think every Latino Republican certainly in Harris County, and I think throughout the state, have a great debt to Joe Peña.
Adryana Boyne: Now I understand that you are the 4th Hispanic that has ever been in the Supreme Court of Texas. Can you tell me a little bit about that and which Hispanics were before you, and then you, and which Hispanics have been after you?
Justice David Medina: Absolutley, our first Latino elected statewide was Raul Gonzalez who I had the honor of meeting while I was in law school. He made a big impression on me, and of course I was a Republican precinct chairman, very proud of my Republican credentials, and this man knew that, and still embraced me and he said something to the fact that, "Hey maybe one day you can be a judge or even on the Texas Supreme Court." And here I am, and what a blessing to have the privilege of being able to do that. And after Justice Gonzalez we had my good friend, former Attorney General, Al Gonzalez. He became the first Republican elected statewide, and he was elected to the Texas Supreme Court and shortly Judge Gonzalez with him to the White House to become the first Latino to be general counseling to the president and of course the first Latino to become the United States Attorney General. Al is also a great mentor and a great friend of mine, and has been a very positive influence on my life. And then we have Xavier Rodriguez who was appointed by Governor Perry, now Xavier drew a primary opponent, Xavier unfortunately lost that race, but as fate would have it, it worked out good for Xavier. Xavier was later appointed by President Bush to be a Federal Judge. Judge Rodriguez sits on the federal bench there in San Antonio. And then after that when I was working for Governor Perry, as his general counsel, one of my jobs was to interview and to screen candidates for various positions, including the Texas Supreme Court, and it was during that process where he gave me the opportunity to become a judge, so Im the fourth, and I said this earlier, I ran for election and didnt have an opponent in the primary at that time, and I won. This time Ive drawn two opponents, and Im looking forward to that challenge. The motto was that the Battle of Gonzalez when the Mexicans went there to get the cannon, "Come and take it."
Adryana Boyne: Yes, and then after you we have the first Hispanic woman.
Justice David Medina: Thats right. This is really fascinating because Justice Guzman was appointed by Governor Perry. She and I were classmates. We met in law school, we started law school together, we became good friends, she had very good notes, very smart, very intelligent and did extremely well in school. We became friends, and whats unique about that is that you not only have two people from the same law school sitting on the Texas Supreme Court, you have two classmates, so thats an impressive statistic for our school. We also have some other judges that came out of that class, Judge Velasquez sits on a Criminal District bench in Harris County. She was appointed by Governor Perry, and there are others as well. Of course, Justice Guzman won her race. She had a contested primary. Justice Guzman won her race in a huge way. She won by the largest margin in a contested Primary than anyone. I understand that before that Judicial race, the largest margin of victory was by our good friend General Abbott. So he was the trendsetter, and that has been broken by Justice Guzman. Now, Id like to win like that, but Ill just have to get 50% plus 1.
Adryana Boyne: But youre probably okay. I have had the privilege to serve with Justice Guzman on that race, and actually I had the honor to meet you at her Investiture, you remember thats when we met, and Eva Guzman, we are certainly proud of her as well. Well one of the questions that everybody...
Justice David Medina: Excuse me, let me add another part of history. This past, I think, August, Governor Perry appointed the first Latina to the court of criminal appeals, now thats our sister court. The Texas supreme court, we handle all civil matters and the court of criminal appeals handles all criminal matters. He appointed Justice Elsa Alcala to that bench. She becomes the first Latina to sit there in the history of Texas, first Latina, of course the first Latino was Justice Benavides, who is now in the fifth circuit, so thats another historical landmark.
Adryana Boyne: That is so wonderful. I think one of things that people like to hear sometimes is what is your judicial philosophy, because some people here are just about, well he is a judge but what does he think, what does he stand for. So can you share a little bit about your judicial philosophy so people can know Justice Medina.
Justice David Medina: Thats a great question, because that is actually a question we ask for people that are being interviewed for positions for jusicial appointment of any sort from the district bench all the way up to the Texas Supreme Court, court of criminal appeals. My judicial philosophy is one of a conservative. I have a very conservative judicial philosophy and that simply means that I am there to interpret the law, interpret the statutes as its given to us by the Legislature. I dont write the law, Im not the author of the law. If the legislature gives us a statute we apply the strict meaning, give the words the simplest terms and apply that meaning, dont try to create a meaning and shape a meaning the way I think it should turn out. I just want to interpret the statute, and sometimes the court doesnt necessarily agree with the statute, but its the statute thats given to us, and if it has to be changed the Legislature can change it. Of course if there is a challenge to the Constitutionality of a statute, then well look at that as well, but I believe in stare decisis which means that we take these cases and if there is a history of the case being, the law being a certain way then we try to follow that law, of course unless its an unconstitutional law, as most people are familiar with Brown Vs. The Board of education. You know and before that the U.S. constitution said that you could have separate but equal schools, separate but equal facilites, well the U.S. Supreme court later declared that unconstitutional, and thats a good result. But my judicial philosophy is that of a conservative, conservative Republican.
Adryana Boyne: One of the things that I like is that you are a conservative Republican. Sometimes people ask me as I am traveling the state and also the country about VOCES Action about my conservative fiscal and moral values, but I think a lot of the values that you have, have to do with your background, the fact that you are a Hispanic, and have a Hispanic background maybe have a lot to do with how your parents raised you. Id like to know if you could share a little bit about your Hispanic background, your family, and how you shaped those conservative values that you have as a Hispanic man.
Justice David Medina: I like that question. Not too long ago, probably the last 15, 18 years, my father, who is very conservative, asked me why I was a Republican conservative. And were sitting down having this discussion, and I said, well Dad, its because you raised me, you raised me to be the man that I am, and my sisters to be the women that they are, and of course my mother, and we were raised in a very conservative home, my mother is Catholic, and Im Catholic, we went to Catholic church for a while, and then later went to Presbyterian church, but the basis was always a strong Christian foundation in our home. We went to church, you know every Sunday and there was a very good event that we looked forward to. Wed call every Saturday night, and shine my shoes and my fathers shoes, and make it ready for church, and part of that process, he taught me how to speak, my dad did, by encouraging us to memorize Bible scripture, so from a very young age we were in front of the Congregation sighting a Biblical passage, whether it was Psalm 23, whether its the Beautidues, wed memorize those, the books of the Bible, we would do that for the congregation, it was fun, and I think my dad at one time wanted me to go in the area of being a preacher, but you know I did the next best thing and became a lawyer, so that was fun, but my parents, we have strong roots to Texas, both my mother and father are from Galveston TX, and I was born on the island as we in say Galveston, TX. My Grandmother was born on the island of Galveston, TX. She was one year old when the 1915 hurricane was there, thank God she survived that, and then umm, thats on both sides of my family, then of course if you trace that on back theres a, family was here when Texas was a part of Mexico, so we have been as I say, Texas born and Texas proud, and we are very, very, very proud of our heritage, our Mexican heritage, and were certainly proud of our Texas heritage. Weve been blessed with four kids. I have two boys and two girls and we are going through a birthday cycle right now beginning on January the 2nd, so well have a birthday January the 2nd, February the 13th , March the 15th and March the 26th. And my three oldest children are going to college and then my youngest is still in high-school, and weve, Ill tell you having children is a blessing. I think we are sharing his story of my youngest son, Vincent, and its interesting that when he was born, we went through a situation where he, the doctors told us that he probably wasnt, he was going to be born with birth defects, and so we went through that ordeal and the doctor at the time suggested that we do something that we just would not, were not for, so we switched doctors and, you know, we prayed about the situation, whatever was going to happen we were going to be prepared for, and thank God he came out, and hes a healthy young, you know, little boy, and no, no birth defects. That in itself is a miracle to us, and we have experienced a lot of them, probably far more than we deserve.
Adryana Boyne: One of the things not many people know about you, but I have learned to read about you is that you like sports, especially the Martial Arts, right?
Justice David Medina: I do.
Adryana Boyne: Can you tell me exactly what Martial Arts are the Martial Arts that you practice and how far have you gone?
Justice David Medina: Well, Ive gone a pretty good distance, but not far enough, I have a black belt in Taekwondo, and I also have a black belt in kaja kenpo, which we say is the original mixed Martial Arts, which is a combination, of Karate, Jujutsu, kenpo, Chinese boxing, and grappling, its all that put together, its a self defense technique, and I have trained under grandmaster Dan Baker, hes a fourteen time, I am also now learning the Filipino Martial Arts from a friend of mine called Erwin Berlada, who was actually the personal bodyguard of Lance Armstrong, and was a personal protector of Governor Richards, Governor Perry and Governor Bush, a very great martial artist and hes teaching me that.
Adryana Boyne: Thats very interesting Justice Medina. I would like to end this interview by asking you if you could give advice to the younger generation, the kids that are in elementary, middle school, high-school, right now, college. What would you tell them regarding school, education, and coming to become a Justice in the Supreme Court. What would you tell the younger generation so that someday they can see themselves in a position like you have or other positions of influence as leaders here in Texas and in the country.
Justice David Medina: Well Ill say the way I think Joe [Peña] would have said it, and thats just stay involved, obviously become educated. Joe was very much for that, he reached out beyond guys in their twenties, women in their twenties, he went to the schools, he went to the high-schools encouraging kids to get involved in politics, to become educated, helping some of those kids get appointments to the Air Force Academy, the Naval Academy, Westpoint, he helped many children do that, so the key to all of this is education, the better educated you are the better chance we have to succeed, as Joe said, we just want a seat at the table, we want to be heard, as we want to be listened to our opinions counts, and it counts more so than ever because we are here. Weve been here, weve become more political active, young Latinos that are behind us, theyre better educated than certainly my mother and father were, as educated or more educated as I am, we are. You have a son going to Stanford University, that is awesome to have a Latino there at one of the best schools in the country. Justice Guzmans daughter is at Harvard University. Those are the minds and the ideas that we want to impart on our community to help make our community better. Joe said we should never stop giving. Once we reach that goal, we set another goal, bring someone else up. Joe is always bringing other people up, helping other people, promoting everybody. It was never about Joe Peña, it was about the good of our community, the good of the organization, the good of us, thats who Joe Peña is.
Adryana Boyne: Justice Medina, for information for the people to find out more about you, can you give me your website please?
Justice David Medina: Well, were working on a website, well get that up soon. We have a Facebook page, its Justice David M. Medina, and you can go there and friend me and follow the campaign, its going very well, weve been picking up endorsements all over the state. Im proud to say Ive been endorsed by former members of the Texas Supreme Court, Chief Justice Phillips, Attorney General Justice Gonzales, my friend Raul Gonzales…have all endorsed my campaign. We just picked up the endorsement of Hispanic Republicans of Texas, and Im honored to have that, so well work hard across the state. Its a challenge to try and win a reelection, but theyre 254 counties in Texas, I cant get to all of them, but Ill get to most of them.
Adryana Boyne: Well be very supportive. I do want to say on behalf of VOCES Action and behalf of TexasGOPVote, thank you for your service and for this interview, muchas gracias.
Justice David Medina: Muchas gracias.