Voz y Voto's Gustavo Monsante Interviews Adela Garza on Texas CD-34 Primary Race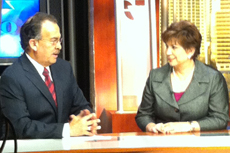 Adela Garza, Republican candidate for CD-34, was interviewed by Gustavo Monsante Wednesday afternoon for his Univision program Voz y Voto, the number one Spanish political show in Texas. Tune in to watch the airing Saturday or Sunday (check your local listings) at 5PM!
Adela Garza discusses her experience on the show:
Going to be interviewed with Gustavo Monsante, with Univision, was a great opportunity to talk to the Hispanic community about newly-formed Congressional District 34, my public service, and what brought me to my decision to run for congress.

As Hispanics we share our faith, values and work ethic. We are concerned with the lack of jobs, our economy, overspending, border security and immigration reform.

I was asked about my work as Field Representative for Congressman Blake Farenthold, my position as trustee for the community college board, as well as my service to other boards and organizations I have had the privilege to be on. Every single experience has helped me grow and become what I am today.
Check out these behind-the-scenes pictures from the filming of the show: