Weston Martinez On Voter Fraud In Bexar County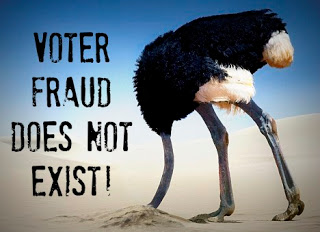 When Texans think of Voter Fraud, it's hard not to think about the 200 ballots found in Jim Wells County giving Lyndon Johnson victory over his Republican opponent for the senate seat in 1948. Texas has a history of Voter Fraud, no doubt about it. Voter Fraud is one reason that some believe we lost the 2012 presidential election. Thinking that there is Voter Fraud is one thing and proving that there is Voter Fraud is quite another. I also believe that in some cases it probably does not affect the outcome of the race but every effort should be made to keep the integrity of the vote.
During my research on Voter Fraud in Bexar County, I found this information on Bexar County Criminal District Attorney Susan Reed interesting. She has done her own investigation on undocumented immigrants. But according to reports I read, has come up short in prosecuting anyone of this offense.
Bexar County Elections Administrator Jacque Callanen in 2007 discovered that undocumented immigrants had voted and actually compiled the list of names from the jury summons cards. This information was taken from a 2007 article 'Voter Fraud case takes a New Twist', by Guillermo X Garcia, a reporter from the ultra liberal San Antonio Express-News. But in a recent investigation by Brian Collister of WOAI TV, Callanen states, 'We are not an investigative body'.
"The elections office is not an investigative body. If we see things, suspect things, our priority is to make sure no one is disenfranchised and that we get a ballot to every eligible voter."
Weston Martinez, a San Antonio resident and a Republican Party ally has been working to uncover voter irregularities in Bexar County. Martinez's story has aired on WOAI TV and KABB FOX NEWS San Antonio and in news articles. I interviewed Martinez on November 19 and he believes that all citizens should want to know if there is Voter Fraud. My interview with Weston Martinez:
HOW DID YOU BECOME AWARE OF VOTER FRAUD IN BEXAR COUNTY?
Did someone send you the information?
Martinez: I have a sworn statement from an eye witness and this is currently under investigation at the Attorney General's office. Gracie Acuna, Ballot Board member on the Bexar County election office helped Jo Ann Ramon, Democrat Political Consultant, prepare mail out ballots at the Democrat Party headquarters.
HOW MUCH VOTER FRAUD DO YOU BELIEVE IS HAPPENING IN BEXAR COUNTY?
Martinez: 7000 in one day, Estimate 40,000 votes total
WHAT DISTRICTS/PRECINCTS DO YOU BELIEVE WERE INVOLVED IN VOTER FRAUD?
Martinez: Too widespread in Bexar County to comment.
DO YOU BELIEVE THAT VOTER FRAUD IMPACTED ANY PARTICULAR REPUBLICAN RACE IN BEXAR COUNTY?
Martinez: YES, Canseco and other congressional races, state and local were impacted at all levels.
WHAT CORRECTIONS IF ANY, CAN CITIZENS OF BEXAR COUNTY EXPECT IN 2014?
Martinez: That depends how vigilant the investigation is. A tough look from the Secretary of State and the AG's office, unless we chase the fraud down it is only going to get worse… it is bigger than what the Republicans believe, they don't even know what is going on. We have soldiers dying everyday for us to have this privilege and these people are desecrating their sacrifice.
IS THERE ANY CHANCE OF PROSECUTION?
Martinez: YES. We need the proper authorities to take a strong position. If the people in Austin listen and investigate with vigor and thoroughly what the grassroots found.
Or maybe not. I don't think they know what they are dealing with.
HOW COULD THE REPUBLICAN PARTY PREPARE FOR VOTER FRAUD?
Martinez: According to Bexar County Elections Office, everything seems to be in order.
THAN WHOSE JOB IS IT?
Martinez: Unfortunately we the people have to be vigilant… Taking extra step…
WHAT IS THAT EXTRA STEP?
Martinez: Place people in places where Republicans have never gone and support individuals that we may not have previously supported, such as Hispanics.
I give Martinez a lot of credit for even trying to investigate allegations of Voter Fraud, especially when he is in the eye of the storm. It is my contention that as long as the Republicans and Democrats are intertwined in Bexar County and all the politicians care about is being reelected; it will be very difficult to prosecute any one for Voter Fraud. The mayor, Julian Castro, is a flaming liberal, the County Judge, Nelson Wolff, is a Democrat and questioned why Callanen was interested in Voter Fraud in a statement he gave a reporter. According to an article I found dated August 8, 2008, 'Charges filed after voter fraud probe', by Guillermo X Garcia, Wolff stated, "turning Jacqui Callanen into a law enforcement agent is not the goal. Enfranchising people and getting more people to participate in the electoral process is her goal." His son, Kevin Wolff, was one of the Republicans who promoted a Democrat judge in the last election. The Catholic Archdiocese has its headquarters in San Antonio and is supported by Catholic Democrats. You would have to be blind not to notice the picture. I would like to be proven wrong…
RED SONJA 2012©
PRAY, FIGHT, NEVER GIVE UP!
Is Ballot Mystery Voter Fraud?
http://www.foxsanantonio.com/newsroom/top_stories/videos/election-mystery-12701.shtml
Collister Investigates: Voter fraud allegations persist in Bexar balloting
http://www.woai.com/content/blogs/briancollister/story/Voter-fraud-allegations-persist-in-Bexar-balloting/kK1ewkr4cEKibY3xF6QLPw.cspx
Complaint alleges widespread voter fraud in South Texas
http://www.gonzalescannon.com/node/11637
Undocumented immigrants
District Attorney Susan Reed has been investigating undocumented immigrant status fraud for over a year, which has been claimed by people both registering to vote and by people trying to get out of jury duty. Two of the jury cases are to be prosecuted as perjury. According to Reed, her office investigated records from the Bexar County election department, which began in late May 2007, when the Homeland Security Department's Immigration and Customs Enforcement requested a report prepared by Bexar County Elections Administrator Jacque Callanen. "I'm asking to move it up on the radar and let's keep what we need to be able to come in and effectively prosecute in those situations," Reed said. The statute of limitations has run out on some of the cases of voter fraud. The statute of limitations is two years on lying to get out of jury duty and three years on the undocumented voter registration. According to Reed, her office investigated records from the Baxer County election department at the department's request. "I'm asking to move it up on the radar and let's keep what we need to be able to come in and effectively prosecute in those situations," she said. http://ballotpedia.org/wiki/index.php/Vote_fraud_in_Texas
Voter Fraud Case Takes A New Twist
http://www.immigrationwatchcanada.org/2007/09/12/voter-fraud-case-takes-a-new-twist/
Charges filed after voter fraud probe
http://shapleigh.org/news/2107-charges-filed-after-voter-fraud-probe
Why the GOP won't challenge vote fraud
http://fellowshipofminds.wordpress.com/2012/11/15/why-the-gop-will-not-do-anything-about-vote-fraud/