Where Do I Vote? Texas Voting Information and Voter Guide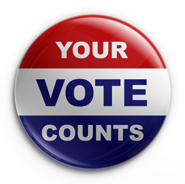 Update for 2012 Election:
Where Do I Vote in Texas? 2012 Voting Day Information
---
It's election day! The time has finally come! If you haven't voted yet, make sure to get out to the polls! If you have voted, then get your friends and family out to the polls!
Where Do I Vote? 
Google maps has a fantastic voting feature - just type in your address and your voting location will pop up!
Click here to use the feature. 
What District Do I Live In and Who Represents Me? 
You may be asking  - Which district? Congressional District? State Senatorial District? State House District? State Board of Education District? Texas Legislature Online has them all!
Where Do I Find Information More Specific to My County?
Check out your County Republican Party website! 
Click here for a list of all the Texas county Republican sites.
Who Are the Congressional Candidates from Texas?
Click here to view who all the Democratic and Republican Congressional candidates from Texas are. 
Where Can I Find a Voter Guide?
The Liberty Institute has an informative voter guide that details candidates and races throughout Texas.