Cornyn Statement on Texas Governor Rick Perry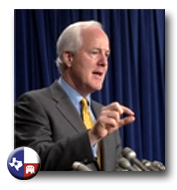 WASHINGTON-U.S. Senator John Cornyn (R-Texas) today made the following statement after Texas Governor Rick Perry announced his intention to seek the Republican nomination for the Presidency of the United States:

"I'm pleased that Governor Perry is joining an already strong field of Republican Presidential candidates and that the Texas success story will play an important role in the debate ahead.
"Under Governor Perry's leadership, Texas has been a shining example that less government, lower taxes and less regulation of our small businesses helps to grow jobs and move our economy forward.  It's a striking contrast to the big government, big spending, liberal mindset of the current Administration.
"I look forward to watching everyone in our strong Republican field work to make President Obama a one-term President, turn this nation around, and put us back on a path toward economic prosperity."