$4 Trillion Failure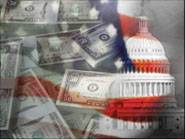 NRCC - President Obama's share of the national debt this week surpassed $4 trillion, with the total national debt standing at over $14.6 trillion, giving him the dishonorable distinction of having presiding over "the most rapid increase in the debt under any U.S. president":
"NATIONAL DEBT HAS NOW INCREASED $4 TRILLION ON PRESIDENT OBAMA'S WATCH." "The latest posting by the Treasury Department shows the national debt has now increased $4 trillion on President Obama's watch. The debt was $10.626 trillion on the day Mr. Obama took office. The latest calculation from Treasury shows the debt has now hit $14.639 trillion." (Mark Knoller, "National Debt Has Increased $4 Trillion Under Obama," CBS News, 8/22/2011)
OBAMA DEBT BURDEN "THE MOST RAPID INCREASE IN THE DEBT UNDER ANY U.S. PRESIDENT." (Mark Knoller, "National Debt Has Increased $4 Trillion Under Obama," CBS News, 8/22/2011)
This unprecedented increase in the debt is especially shocking since Obama himself said back in 2008 that adding $4 trillion to the national debt was "unpatriotic." Yet now, Obama plans on proposing more spending that will further enlarge the debt. Democrat Leader Nancy Pelosi has for her part categorically ruled out more spending cuts to get the debt under the control:
OBAMA, JULY 2008: BUSH "ADDED $4 TRILLION BY HIS LONESOME… IT'S UNPATRIOTIC": "The problem is, is that the way Bush has done it over the last eight years is to take out a credit card from the Bank of China in the name of our children, driving up our national debt from $5 trillion for the first 42 presidents - #43 added $4 trillion by his lonesome, so that we now have over $9 trillion of debt that we are going to have to pay back -- $30,000 for every man, woman and child. That's irresponsible. It's unpatriotic." ("Flashback: Obama: Adding $4 Trillion to Debt is Unpatriotic," Real Clear Politics, 8/24/2011)
BUT OBAMA'S "NEW PLAN" FOR THE ECONOMY IS THE SAME AS THE OLD PLAN: MORE FAILED STIMULUS SPENDING: "President Obama has decided to press Congress for a new round of stimulus spending…" (Zachary A. Goldfarb and Peter Wallsten, "Obama to Issue New Proposals on Job Creation, Deficit Reduction," The Washington Post, 8/17/2011)
PELOSI TO LIBERAL BLOGGERS: DEMOCRATS WILL "REFUSE TO AGREE TO FURTHER SPENDING CUTS" EVEN IF IT MEANS A SHUTDOWN. "At a meeting this morning with online writers, House Minority Leader Nancy Pelosi tried to persuade progressives that the Democratic caucus won't get rolled in future hostage standoffs. … The clear implication, however, is that she does in fact expect Democrats to refuse to agree to further spending cuts even if refusal results in a shutdown." (Matthew Yglesias, "Pelosi Vows Dems Won't Get Rolled Again," ThinkProgress, 8/4/42011)
Numbers out from the Congressional Budget Office Wednesday show the recent debt ceiling deal has helped reduce spending, but much more needs to be done to make Washington live within its means. Despite a new survey of economists showing that a majority believe spending cuts are the best way to reduce America's national debt, Democrats continue to be the only people who think Washington needs to keep spending:
CBO "SHARPLY REDUCED ITS PROJECTION OF TOTAL DEFICITS OVER THE NEXT DECADE," BUT SAYS LOWER DEFICITS "COULD BE SHORT-LIVED": "The Congressional Budget Office sharply reduced its projection of total deficits over the next decade in the wake of the recent deficit-reduction deal between President Obama and Congress… The Congressional Budget Office, in its annual summer snapshot of the nation's fiscal health, projected annual deficits from fiscal year 2012, which begins Oct. 1, through 2021 totaling $3.5 trillion. That is just over half of the $6.7 trillion shortfall it forecast in March." (Jackie Calmes, "Budget Office Says Lower Deficits Could Be Short-Lived," The New York Times, 8/24/2011)
"SURVEY: MORE ECONOMISTS PREFER CUTS OVER TAXES": "The majority of economists surveyed by the National Association for Business Economics believe that the federal deficit should be reduced only or primarily through spending cuts.
"The survey out Monday found that 56 percent of the NABE members surveyed felt that way, while 37 percent said they favor equal parts spending cuts and tax increases. The remaining 7 percent believe it should be done only or mostly through tax increases." ("Survey: More Economists Prefer Cuts Over Taxes," Associated Press, 8/22/2011)