47 Days Left for Obama to Decide to Stop Blocking Keystone Jobs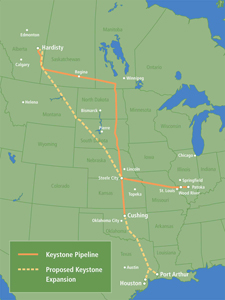 The National Republican Congressional Committee (NRCC) is a political committee devoted to maintaining and increasing the 239-member Republican majority in the U.S. House of Representatives. 
Despite repeated pleas from job creators and state officials such as Montana Democrat Gov. Brian Schweitzer, President Obama won't stop blocking the creation of tens of thousands of immediate American energy jobs:
UNITED PIPING, INC: KEYSTONE APPROVAL WOULD "PROVIDE A TREMENDOUS PRIVATE SECTOR ECONOMIC STIMULUS": "This project also stands to provide a tremendous private sector economic stimulus. … Rejection of the permit or suspension of the review would sacrifice the significant economic benefits this project stands to deliver and force U.S. consumers to rely on other sources of crude oil not economically and politically allied with U.S. interests. This would be a mistake." (United Piping, Inc. letter to U.S. State Department, 6/3/2010)
MONTANA DEMOCRAT GOV. BRAIN SCHWEITZER: "KXL has the potential to be an economic boon for Montana's economy by increasing jobs and tax revenues and opening up potential new markets for oil from our Bakken and Williston formations. The pipeline could also potentially enhance U.S. energy security by helping displace oil from unfriendly or unstable nations overseas." (Montana Gov. Brain Schweitzer letter to Secretary of State Hillary Clinton, 5/10/2010)
TYLER, TX CITY MANAGER: "As a city official in the State of Texas, I strongly encourage the U.S. Department of State to approve an energy infrastructure project that not only will strengthen long-term energy security in the United States, but also will provide a powerful private sector economic stimulus to the communities along the pipeline route during its construction at a time when our economy continues to struggle." (Tyler, TX City Manager letter to U.S. State Department, 6/3/2010)
Those jobs won't wait for Obama to make up his mind. China is already making new investments in Canada's oil fields and is preparing to take advantage of a jobs opportunity that Democrats are steadfastly refusing:
PETROCHINA BUYS LARGE STAKE IN CANADIAN OIL DEVELOPMENT: (Edward Welsch, "PetroChina Buys Oil-Sands Project," The Wall Street Journal, 1/4/2011)
CANADA "ACTIVELY MARKET[ING] ITS OIL TO ASIAN BUYERS, INCLUDING CHINA" AFTER OBAMA'S KEYSTONE DELAY: "Oil-sands output has grown quickly, and Alberta and Canadian officials have sought out new markets.
"That has particularly been the case after the U.S. State Department late last year delayed a decision on a pipeline proposed to carry oil from Alberta to the U.S. Gulf Coast.
"The government of Prime Minister Stephen Harper has said it would actively market its oil to Asian buyers, including China. The Canadian government has said it backs the construction of another pipeline running from Alberta to the Pacific, where oil could be loaded onto tankers bound for Asia." (Edward Welsch, "PetroChina Buys Oil-Sands Project," The Wall Street Journal, 1/4/2011)
Congress had to pass a bipartisan agreement to force Obama to finally make a decision about the job-creating project by late February. Democrats have already shown a willingness to cave to demands from their radical "green" activist base at the expense of job creation, and it now appears a politically desperate Obama may do so again:
OBAMA FORCED TO MAKE KEYSTONE DECISION WITHIN 60 DAYS: "The only potential job creator in the Senate bill is the plank requiring Mr. Obama to make a decision in 60 days on the Keystone XL pipeline." (Editorial, "A Payroll Tax Deal," The Wall Street Journal, 12/23/2011)
BUT OBAMA MIGHT SABOTAGE KEYSTONE PROJECT ANYWAY: "And he might ruin that by killing the pipeline to please his rich green supporters who think you can power a modern economy with windmills, solar cells and switchgrass. But at least now he'll have to decide before the election, and if Mr. Obama kills the pipeline he might doom a Democratic Senator or two." (Editorial, "A Payroll Tax Deal," The Wall Street Journal, 12/23/2011)
THE DEMOCRATS' LONG RECORD OF JOB-DESTRUCTION:
NEW EPA RULE TO DESTROY 183,000 JOBS A YEAR, 1.65 MILLION JOBS DESTROYED THROUGH 2020: ("EPA Finalizes New Rule That Will Hurt American Economy," American Coalition for Clean Coal Electricity, 12/21/2011)
LIKE CLOCKWORK: DEMOCRATS' GREEN BASE REJOICES OVER EPA'S JOB-DESTROYING DECISION: "Environmentalists rallied so hard for the Obama administration on Wednesday, you'd think power plants were shooting cotton candy from their smokestacks." (Erica Martinson, "EPA Power Plant Rule Has Greens Pro-Obama," Politico, 12/22/2011)
GREEN GROUPS HAD THREATENED TO ABANDON OBAMA IF HE APPROVED KEYSTONE: "Environmental groups have been protesting the pipeline that would run from Alberta oil sands to Texas refineries, and there have been rumblings that greens would abandon Obama next fall if he approved it." (Dan Berman and Darren Goode, "Obama Punts Keystone XL Pipeline," Politico, 11/10/2011)
PROJECT HAS BROAD SUPPORT FROM UNIONS: "The pipeline has the support of many Republicans in Congress and also major labor unions like the Teamsters, Laborers' International Union of North America and segments of the AFL-CIO." (Dan Berman and Darren Goode, "Obama Punts Keystone XL Pipeline," Politico, 11/10/2011)
LONG-TERM JOBS IMPACT: UP TO 130,000 JOBS: "Many of those 20,000 jobs on the construction of the pipeline would have been filled by skilled union members. Eventually, the completed pipeline was expected to result in as many as 130,000 jobs, many of them on the upper Texas Coast, where the heavy oil would be refined into 700,000 barrels of oil daily." (Editorial, "Keystone Pipeline is the Wrong Call," The Houston Chronicle, 11/11/2011)
FMR. TOP WHITE HOUSE ECONOMIST AUSTAN GOOLSBEE: KEYSTONE OPPONENTS "NAÏVE": (Sean Pasternak, "Goolsbee Says U.S. Opponents of TransCanada's Keystone Pipeline are Naive," Bloomberg, 11/28/2011)
MORE GOOLSBEE: CANADIAN TAR SANDS WILL BE DEVELOPED WHETHER AMERICA GETS INVOLVED OR NOT: " 'It's a bit naïve to think the tar sands would not be developed if they don't build that pipeline,' said Goolsbee, speaking today in Toronto at the Economic Club of Canada. 'Eventually, it's going to be built. It may go to the Pacific, it may go through Nebraska, but it's going to be built somewhere.'" (Sean Pasternak, "Goolsbee Says U.S. Opponents of TransCanada's Keystone Pipeline are Naive," Bloomberg, 11/28/2011)