Air Force Picks Texas as Home for Cyberwarfare Operations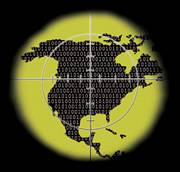 A favorable business climate and well developed infrastructure system has attracted another business partner to the state of Texas – the U.S. Air Force. According to an article in Saturday's New York Times, the Air Force has chosen San Antonio as its newest base for "cyberwarfare" operations.
The Air Force's new military command for computer-network offense and defense, activated in late summer, is expected to require 5,500 to 7,000 jobs, including Air Force personnel, Defense Department civilians and private-sector contractors.
Although San Antonio was not an initial contender for the site, the area's experienced workforce and military past made it hard to pass up:
Julian Castro, the mayor of San Antonio, said community leaders found it easy to sell the lobbying effort, not just in Washington but to their own citizens. San Antonio has a history of energetically supporting its military bases, he said. But even more, cyberoperations are viewed as a more intellectual and clean, even "green," sector of the American military than traditional combat. Mr. Castro said the effort to sway decision makers was built on arguments that San Antonio not only offered excellent computer security expertise and the municipal infrastructure to support it, but was producing network warriors for the future through new programs at its high schools and local colleges.