Occupy Nike - Quanell X Demands Affordable Air Jordans for All
by Bob Price
on December 30, 2011 at 11:46 AM
---
Just when you thought it was safe to sport about in your new pair of $200+ Nike Air Jodan shoes, Quanell X comes along and wants to declare them the new "Civil Right".  My how far we have come in the issue of civil rights when so-called civil rights activists like Quanell X want to focus on making tennis shoes affordable for everyone!  Is this what we have come to - Occupy Nike?
Houston's Fox 26 is reporting that civil rights leaders, who used to have important things to do like securing voting rights for minorities, ending segregation and stopping workplace discrimination have now been relegated to protesting clothing companies over the price of their products. Martin Luther King would be ashamed...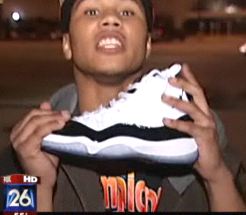 This comes during the celebration of Kwanzaa. What could be used as an opportunity for cultural introspection is now being relegated to the social scrap heap of entitlement and dependence. Rather that discussing the social ills that create an environment where young people will rob, assault and even murder someone for a pair of shoes, these civil rights leaders want to dictate to a manufacturing company that they must change their business procedures and process.  They must devalue their assets and make these shoes at an artificially low price.  Why?  So we won't kill each other!
At a protest rally at what is not so affectionately called "Gunspoint Mall" (Greenspoint Mall), Quanell X said, "It is the responsibility of Michael Jordan and Nike to stand up and be part of the solution. Right now it's a public safety issue with children wearing those sneakers." 
Quanell, how about it is the responsibility of parents and community leaders to teach their children values.  The value of life?  The value of private property?  Respect for following the law?   Or how about just getting a good education and a good job so you can afford your own pair of Nikes?...   Just sayin...
What an entitlement country we have become when people think it is a company's responsibility for the actions of irresponsible people.  What gives Quanell the right to demand Nike do anything besides make a product people want and sell it for a price people are willing to pay? Just curious Quanell... How many Air Jordan's could have been purchased for your "appearance fee"?
My advice to Nike...  Just Do It!