Analysis of the Nov. 3 Elections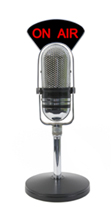 Texas GOP Vote blogger, Lauro Garza, has a new radio show called Conservative Latino. Lauro's LatinoTalkTexas is the producer of his Conservative Latino Talk Radio. Texas His purpose is to reintroduce Latinos to conservative politics, which he believes is best represented in the Republican party. The Republican Party is undergoing a transformation and Lauro doesn't like everything he has seen. Rather than bail out, he opted, instead, to work at the problem internally.
Through Facebook, he started writing his opinion and didn't back down when people disagreed. Now he has made a small name for himself and has had some influence. In addition to those efforts, Lauro wants a greater audience and wants to be able to expand opportunities for Latinos in politics. To do so, people in politics need to better understand Latinos and the issues that are important to them, and Latinos need to understand which path best reprsents them.
Lauro has said,
I believe Latinos are naturally conservative and as such they are best represented by the platform of the Republican party. However, not everyone in the party adheres to that platform and that has been the problem. So, I will address the GOP leadership's failings and the deceptions of liberalism and its political home, the Democrat, the Socialist, and the Green parties.
Texas GOP Vote will be highlighting Lauro's radio shows a few times a week. You can also listen to Lauro's show daily on his blog.
Today, Lauro is analyzing the Nov. 3 elections. Click below to hear his analysis!