Arizona Sheriff Joe Arpaio is Coming to Houston Texas to support Carl Pittman for Harris County Sheriff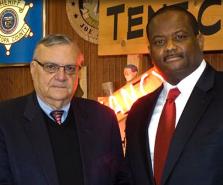 Dubbed America's Toughest Sheriff, Arizona Sheriff Joe Arpaio will make his only 2011 Texas Visit to Houston to support the campaign of Carl Pittman for Harris County Sheriff. Pittman announced the event today on his campaign website.
The event will be held June 4, 2011 at the Humble Civic Center.  It will also be attended by radio talk show hosts Michael Berry and Sam Malone. Other special guests will be announced as the event nears. This will be a great family outing with live music, great food, interesting exhibits and an opportunity to hear directy from Sheriff Joe. 
"Sheriff Joe" earned his toughness reputation by governing with two primary principles.  First, the law should be enforced.  Second, living in jail should not be as comfortable as living at home. After meeting with Sheriff Joe in Phoenix earlier this year, Pittman pledged to bring those principles to Harris County.
When asked about potential protesters at the event, Sheriff Joe said he would welcome the protesters with open arms.  Arpaio has said in the past he enjoys talking directly to protesters...  bring 'em on!
One of the primary responsibilities of the job of Harris County Sheriff is to oversee and manage one of the largest jail populations in the United States.  With over 10,000 prisoners, the Harris County Jail represents the largest segment of the department's budget.  Pittman believes many of Apraio's practices can be applied to Harris County, leading to increased law enforcement and community safety, while reducing the cost of housing prisoners.
Pittman is also in a unique position to bring conservative leadership and values to the youth of Harris County who are being raised in troubled neighborhoods.  Having been raised in a very poor home in an area where many of his contemporaries are either dead or in jail, Pittman offers a perspective on how youth in troubled areas can find a pathway away from crime and towards a better life.
Using this perspective, Pittman can be a real life role model for the youth of this community. Learn more about Carl Pittman by reading our previous story about him and watch our exclusive interview.
This will be your only opportunity to see and hear Sheriff Joe in Texas this year.  Groups around the state are already mobilizing to come to Humble.  Don't miss out!