Big Government, Taxes and Fees are the Hot Issue at Republican Leadership Council of Harris County GOP
Limiting big government and stopping new taxes and fees was the hot topic at the Republican Leadership Council of the Harris County GOP on Tuesday, Sept. 28 at Houstons Steamboat House Restaurant. State Representative Gary Elkins (HD-135) talked about his plan to cut the Texas state budget without raising taxes. Norman Adams of StopProp1.com expressed outrage that Houstons proposed Proposition 1 fee is more expansive than the largest tax increase in city history and even punishes churches, schools and charities.  Adams explained slick marketing and interests behind the proposition and stressed the importance to VOTE NO to Houston Proposition 1 in the upcoming elections on November 2.  Elkins and Adams got rousing support from a packed room who agreed Enough is Enough!
State Representative Gary Elkins explained that in 2003, the Texas Republicans made a commitment to balance the budget without raising taxes. The result was that $10 billion was cut and there was no increase in taxes for Texans. This year, he explained, the Texas legislature needs to cut $18 billion. He said that if State Reps raise taxes, then dont vote them back!  Elkins also outlined his plan to improve the "sunsetting" process so that unneeded state bureaucracies can be shut down.  (See VIDEO below for more about this.)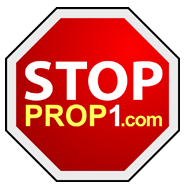 Norman Adams urged attendees to visit StopProp1.com and help defeat Houston Proposition 1 in the upcoming elections.  He outlined negative consequences that this proposed fee would have on Houston and discussed the interests behind it:
The Renew Houston promoters have put on a slick sales pitch. They spent more than $500,000 getting 22,000 signatures asking City Council to put their Charter Amendment on the ballot. Now they are raising a lot more with the Mayors help to sell the biggest City of Houston tax increase in history! But wait! It is not a tax increase! It is a Drainage Fee!
Disguised as a FEE, it will apply to our churches and schools, YMCA, and all charities! Think about the fact that this fee will even be charged to HISD, Aldine and Spring Branch School Districts! We already pay school taxes, so now the City of Houston will "TAX" our taxes!
Renew Houstons Prop One must be stopped, but we are up against a big money advertising campaign! Houston City Council member Stephen Costello for example, has thus far donated $10K and loaned $80K dollars to promote the "Prop One" Drainage fee. Incidentally, Costello owns a civil engineering company. Could that be a conflict of interest?
Prop One calls for a minimum of $125 million per year. A big problem is that it has no upper limit! The city council and Mayor Parker will be able to set it as high as they want! Mayor Parker has stated that we will need $8 billion dollars over the next 20 years. That is $400 million per year, three times the minimum of $125 million!
This issue gets very personal to me when I consider my own church, Our Savior Lutheran Church at 5000 W. Tidwell. We have a parochial school. The minimum drainage fee per year for my church will be more than $32,000. $32K is the cost to fund scholarships for six children for one full school year, or the cost of one full time worker! If City Council does what the mayor wants, our churchs annual drainage fee will be over $100,000.00!
Pastors and Church members across our city must be informed, and their members must vote NO on prop one!
Jared Woodfill, Chairman of the Harris County Republican Party, introduced several state representatives at the event. State Representative Charlie Howard (HD-26) discussed the margin tax and past efforts he has witnessed in the House to review every exemption for possible elimination, which, in effect, would be a tax increase. "If you think about it, removing exemptions is a tax!" Rep. Howard explained. He warned there will be attempts at new tax bills and that he would work to keep them tied up in committee.  Debbie Riddle (HD-150) discussed border security and "Jessicas Law," which helps protect children from pedophiles.  State Representative Patricia Harless (HD-126) discussed redistricting: the Texas population will be increasing by 25 million people and Texas will gain 4 new Congressional District seats. State Representative Alan Fletcher (HD-130) said that he is vying to serve as Chair of Public Safety in the House.  He is the only retired peace officer in the House and is Chair of the White Collar Crimes Committee.
Watch the VIDEO below to hear State Representative Gary Elkins discuss his plans to improve the sunset bill so that obsolete and expensive government bureaucracies can actually be phased out.  Elkins explains he has asked the speaker of the house to shift more resources to the appropriations committee so that every government government agency can be reviewed.  He says "the way we do business today has completely changed from the way we did business 10 years ago, yet the government is still stuck in the stone age."  His eyes were opened after serving on the Health and Human Services Committee and that he observed that "the government thrives on inefficiency."   Elkins then describes a recent software project for the state government to streamline health and human services that cost $900M and does not work.  "When we go back we have a golden opportunity this time to legitimately downsize government and streamline it because we just dont have the money."