Bill White Declines To Match Rick Perry On Personal Financial Disclosure, What Is He Hiding?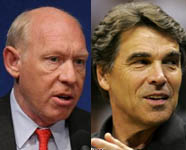 Governor Rick Perry has released his personal tax returns along with the state financial disclosure statements; however, while Democratic gubernatorial nominee Bill White has released the city of Houston financial disclosure forms, he will not release his personal income tax retruns as Perry has.
Even before she knew whether or not she would be the Republican gubernatorial candidate, Kay Bailey Hutchison allowed for release of her personal income tax returns as soon as she entered the governor's race. What's holding Bill White back? Does he have something to hide? Here is what Perry spokesman Mark Miner has to say about White's refusal:
"Bill White has a tax problem - he won't rule out raising taxes for Texans and refuses to release his own tax returns. His opposition to transparency raises questions about what he is afraid of and what he is hiding regarding his own personal fortune and how he may have profited during his six years as Houston's mayor."
Interview between Houston Chronicle writer Ratcliff and candidate White:
RATCLIFFE: Will you release your income tax returns back to 2003?
WHITE: We'll give you and others information that you ask for about, boy, since 2003, I've had most all of that in the financial statements. But I have been, there has been, during much of that time a partnership interest and a partnership return attached to the tax returns. But I'll provide the various adjusted gross income and stuff like that, and a lot of it, but not those schedules.
RATCLIFFE: Try to explain that to me. Why not?
WHITE: I'm a partner, we're, other people are partners in those businesses, and those tax returns are proprietary.
RATCLIFFE: But you will release the Schedule A? (Note: this is the schedule that includes items such as home mortgage deductions, property tax deductions and charitable giving.)
WHITE: Or the information in those schedules.
RATCLIFFE: We have Rick Perry's returns going back to the mid-90s. When Kay became a candidate, she released her's going back to 2001. Is there a way to release as many of those schedules as possible?
WHITE: We'll take a look at that.
RATCLIFFE: We'll take a look at it ...
WHITE: We'll take a look at providing the information, if there's specific types of information, we'll provide that type of information. A lot of it is contained, a fair amount of it is contained in the personal financial disclosures which I file every year. But if there's other types of information, be specific, R.G., and we'll try to get it to you."