Bipartisan Disapproval of EPA's Endangerment Rule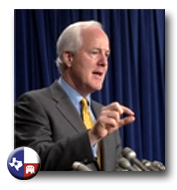 I issued the following statement after agreeing to cosponsor a Resolution of Disapproval of the EPA's Endangerment Rule, introduced by U.S. Sen. Lisa Murkowski (R-AK) and supported by a bipartisan group of Senators:
It's no surprise why the Obama Administration's Cap-and-Trade bill has been roundly rejected by the American people; it will kill jobs, raise prices of consumer goods, and increase energy costs. Despite this, President Obama has chosen to ignore this message and instead of elected officials debating policy measures, his EPA is forging ahead with a national energy tax through a back-door EPA endangerment rule. Texas' urban and rural economies would be crushed under the sagging weight of these expansive new regulations. Congress can, and must, stop him.
We are all committed to protecting the environment and pursuing alternative energy sources, but obliterating our economy in the process is not an option. We lost 3.4 million jobs in the first year of the Obama administration. The last thing he should do is railroad through another ill-conceived policy that only stands to exacerbate that number and leave us more dependent than ever on foreign sources of energy.