Colleen Hammond: Texas GOP Featured Voice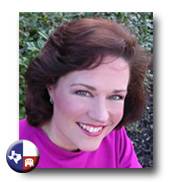 Colleen Hammond is a former On-Camera-Meteorologist for The Weather Channel, model, actress, and Miss Michigan National Teen-Ager. While working in television, she reverted to the Catholic Faith. The moment Colleen's first baby was born, Colleen "saw the light" and abandoned her highly successful career in television to become a stay-at-home-mother.
Colleen addresses such timely issues as marriage, children, family, and values and virtues as a frequent speaker at conferences, retreats, and parish events.
Currently heard as a host of "St. Joseph Radio Presents"—available to 85 million people worldwide on WEWN—Colleen has also been asked to host a television talk show in Dallas.
Colleen is the author of the much acclaimed book Dressing with Dignity, teaching readers about social graces as well as virtues to children.
Colleen is also politically active, maintaining a blog called Colleen Hammond: Thoughts from a Mother of Four in Texas in which she gives her Conservative perspectives on our nation's issues. 
Colleen currently lives in Dallas with her husband and their four children, which are home-schooled by Colleen.
You can also follow Colleen on Twitter and Facebook.