Houston Human Trafficking Awareness Month
by Ted Poe
on October 1, 2012 at 9:05 AM
---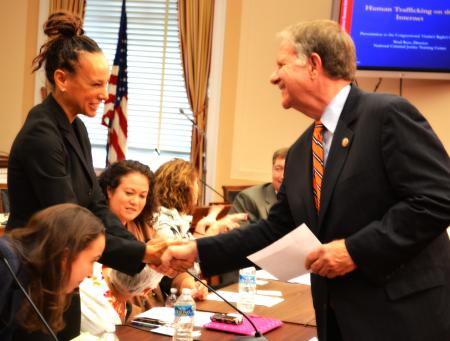 Believe it or not, human beings are bought and sold on a daily basis across this nation. The victims are typically women – both adults and children - but sometimes include men. Many of these victims come to the United States in hope for a better life, and some are American citizens that got caught up in this vicious scheme. Regardless of how an individual becomes a victim of human trafficking, each ends up in a system of modern day slavery. Only some of them make it out; others do not.
In Houston, 16-year-old Maria was lured from Mexico by a man who assured her that she would have a better life in the U.S. Soon after she arrived at an unknown home, she learned that this scoundrel was a slave master and that she had to work to repay him for bringing her across the border. He put her up for sale; she was a sex slave. She was tortured, abused, and forced to give herself to numerous men every day. However and even though it is hard to say this, Maria was one of the "lucky" ones. Law enforcement intervened and rescued her from being a victim of human trafficking. Her trafficker was convicted and sent to prison, where all evil slave traders belong.
Due to the complex nature of human trafficking crimes, statistics are still a work in progress. In 2009, the Department of Justice reported that at least 14,500-17,500 people are trafficked into our country every year. Data also shows that in 2007, 30% of the calls to the National Human Trafficking Hotline came from Texas. To our dismay, Houston is a hub city for human trafficking thanks to its accessibility via airports, interstates, and ports. Fortunately, our state has some of the most dedicated law enforcement agencies and public officials who combat this devastating crime and advocate for the victims every day.
On the federal level, the U.S. Department of Education, in collaboration with the White House, FBI, and Department of State and Justice, has focused on the widespread problem and is working to train certain school districts to educate them on human trafficking. The Department of Justice's Human Trafficking Prosecution Unit also seeks to work closely with law enforcement agencies to identify trafficking networks and collaborate on investigations.
As the cofounder and co-chair of the bipartisan Congressional Victims' Rights Caucus, I am working with service providers and victim advocates to pave federal roads, such as the reauthorization of the Trafficking Victims Protection Act, to help combat human trafficking. The Caucus recently held two Congressional briefings to raise awareness amongst Members of Congress on trafficking transactions that occur online.
September is Houston Human Trafficking Awareness Month and although the month comes to an end, the problems with human trafficking do not. In an effort to combat human trafficking in Houston as well as throughout the country, we must come together under a common cause. America is a free country, and every American deserves to live within the bounds of that freedom.