Black Liberation Theology and Obama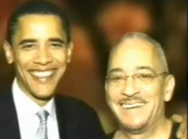 In a previous TexasGOPVote blog post, "Theres a Commuist Living in the White House," former SNL star Victoria Jackson claims that Obamas church of twenty years preached Black Liberation Theology. Heres a some background of what this term means:
Communism was political retribution for the envious less prosperous of society. Liberation theology was an export of this message of resentment that clothed the message in Christianity, replacing the hope of redemption with the hope of vengeance. American black liberation theology accommodated not merely economic, but also racial resentment. The left in America was always a little squishy about communism and about liberation theology missionaries in Latin America in the 70s and 80s. Likewise, so are the Rev. Jeremiah Wright (Obamas former pastor) and Father Michael Pflegers about black liberation theology.
Below Glenn Beck talks about Black Liberation Theology, Jeremiah Wright, and Obamas past: