New Poll Shows Chet Edwards Trailing Bill Flores in TX-17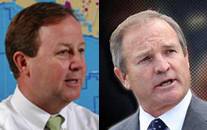 A new poll of 400 likely voters was conducted May 2-3 and shows GOP candidate for the 17th Congressional District of Texas Bill Flores with a 12% lead over ten-term Democrat incumbent Chet Edwards. Texas-17 is Republican in nature with its Congressional generic vote currently 51% Republican and 27% Democrat. However, Edwards says he is not worried:
Edwards points out that he has always run – and won – in a Republican district, and the challenges he faces this year are not all that different than those he faced in the past, including in 2004, when he won a very competitive race by almost four percentage points.
Edwards plans to try to "localize" the race and discredit Flores, while attempting to get the vote of "Republicans who think that he isn't a Washington Democrat."
While acknowledging that he has a tough fight on his hands, Edwards thinks that his focus as a candidate, his campaign's strong opposition research and his deep roots in the district will help him win another term.
Dont let Edwards get away with yet another term as U.S. Representative! He claims to be a Blue Dog Democrat, but hes very close to Pelosi and votes with the Democrats about 97% of the time. He has been known to dodge his constituents as well as tightly control the few town hall meetings he has held, even going as far as to ban cameras. Is this the type of leadership that Texans deserve?
Help Bill Flores unseat Chet Edwards, and get all your friends and family who live in the 17th Congressional District to vote!