Cornyn Warns Against New FCC Actions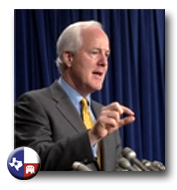 Today, I warned that the recent action by the Federal Communications Commission (FCC) to interfere with broadband access services could lead to further delays in America's innovation and economic recovery.
I am disappointed by the FCC's latest move which imposes new government regulations on one of our economy's newest and most innovative sectors. Clearly, the Obama Administration did not hear the clarion call from Americans in November that stated that they did not want more government regulations and restrictions, like those imposed through the new health care law. Instead of trying to encourage our economic recovery, this Administration has become a shackle to innovation and growth in America. The FCC's proposal will only delay private investments in new innovations that are so critical to creating jobs.