How Obamacare Could Increase Voter Intimidation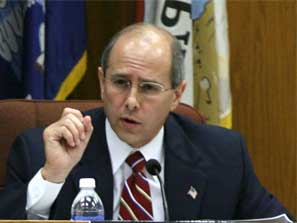 Louisiana Congressman Charles Boustany, M.D. made waves this week after publicly criticizing voter registration functions in Obamacare application drafts – leading to an emerging debate as to whether such options should be available in the 60-plus-page form. Unfortunately, the debate has largely ignored the core flaws of the application program until now, according to activists in the voters' rights community.
"We would honestly be shocked if the voter registration portion wasn't in the upcoming applications," True the Vote President Catherine Engelbrecht said. "The law that requires individuals be given the option to register celebrated its 20th birthday this year. Giving Obamacare applicants the option to register is not the core concern here."
The National Voter Registration Act of 1993, the first bill signed into law during the Clinton Administration, requires that nearly all applications and/or visits to public assistance offices offer voter registration options. You might recall on your last trip to the DMV being asked as well. The same law also requires that voter rolls be kept clean of dead, felon, non-citizen, or otherwise ineligible voters. Citizens are also empowered to help in the maintenance process under the law.
In a press release, Rep. Boustany raised concern over the use of "navigators" to assist individuals in the application process for Obamacare. His concerns are much more aligned with True the Vote and others on this element of the story.
The Washington Post recently offered clarification as to whom the navigators will be, stating, "groups such as unions… immigrant-service organizations, and community or consumer-focused nonprofits" will be allotted public and private funds to connect people to Obamacare. The Post further noted that various insurance agent trade groups expressed concern that these navigators will have limited to no training or professional licenses to offer expertise on healthcare coverage options.
"This is classic community organizing on steroids -- with the taxpayer footing much of the bill," ACORN whistleblower Anita MonCrief told Breitbart News. MonCrief further stated:
ACORN solidified its power in whatever community it was in by helping people with government assistance applications and voter registration. After we processed your public assistance application, we knew where you belonged to each government program. When it came time to fill a bus to the polls, the same person that helped you get food stamps or tax advice could show up and press you to go vote.
Simply put, your local SEIU chapter or spin-off organization of ACORN will receive government funds and private donations to transition as many people into the Obamacare exchanges as possible – all while keeping tabs of your voter registration data to later run get-out-the-vote efforts. In California alone, the cost of navigators is expected to be in the 'hundreds of millions of dollars.'
True the Vote and its Latino initative, Voto Honesto, expressed unease with the new arrangement Obamacare navigators will bring, citing the risk of increased voter intimidation in future elections.
"Voter intimidation can take many forms, all of which are felonies," Engelbrecht said. "This navigator system brings with it the unabated risk that community organizers will attach strings between the public benefit and the recipient's vote – especially in the minds of the most economically vulnerable among us."
The election watchdog said it would be expanding efforts in emergent communities to expose such coercive activity in election cycles to come. "We base our concerns over reports already received from the 2012 Election," Engelbrecht said. "Our Voto Honesto initiative met a startling number of naturalized Americans in south Texas and Arizona who said their newly-minted citizenship was threatened if they did not vote correctly. The same people who helped register them to vote at the naturalization ceremony later showed up at their doorstep as part of a GOTV effort, pushing them to the polls. That's unacceptable."
True the Vote and its allies around the nation are currently planning a summit this April to better organize for these new threats to election integrity. A key strategy could be targeted litigation.
"Engaged voters across the nation will be trained to spot this potential, illegal behavior going forward," Engelbrecht added. "Should we continue to find people telling stories of feeling coerced into voting a certain way, we have legal options available under the Voting Rights Act."
---