2013 Texas Young Republican Federation State Convention to be Held in Austin This Weekend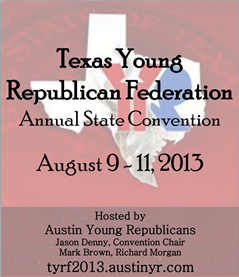 This weekend the Texas Young Republican Federation is holding its annual convention in Austin, Texas. The Texas Young Republican Federation is the premier organization for political activists under 40 who are involved in politics.
This annual convention gathers young Republican professionals from around the state to hear some great speakers, make new political connections, and meet other young activists from around the state.
This weekend's meeting at the Omni Hotel in downtown Austin promises to be an exciting event. Register for the event here and check out the agenda packed with great speakers and presentations.
TexasGOPVote is a gold sponsor of this event and blogger Bob Price will be covering the event. We hope to see you there!