San Antonio Leaders Speak Out About the NDO
San Antonio Leaders Unite Against Radical Ordinance (548) http://www.youtube.com/watch?v=bgQGJ2zuGJ8&feature=player_embedded#t=679
San Antonio leaders gathered in front of City Hall to speak out against the proposed Non Discrimination Ordinance, NDO, at noon on August 28, 2013. Did any of you read anything positive about this in the local very biased Express News? Of course not! The only side printed is the very liberal slant. You can hear the entire press conference by the link provided above.
Each leader present at the press conference, led by Jonathan Saenz of Texas Values, made it very clear that the proposed ordinance was going to hurt San Antonio business and businesses and discriminate against people of faith. Our Right of Conscience will be trampled and we will be silenced. Businesses will be penalized if they do not embrace the gays, lesbians and transgender. The ordinance will still impose a class C misdemeanor with monetary penalties. Saenz did say that the NDO was a Concern, it Confused and it was Controversial and if it passed would go to the Courts.
Pastor Gerald Ripley expressed his concern that even though the majority of San Antonio citizens are opposed to the NDO, 88% in one recent poll, the NDO would still be forced on the citizens. He mentioned that in 2011 the City Council voted to add Domestic Partner Benefits to the budget even when 43 speakers spoke against and only 7 speakers spoke for. He urged the City Council to table the NDO.
Phil Sevilla of Texas Leadership Coalition strongly opposes the NDO. His statement was loud and clear, "We believe that sexual orientation and gender identity do not warrant special protection as a class that should be included because evidence from the social sciences proves that disordered attraction for the same sex and confusion about one's sexual identity are psychological and emotional conditions that can change, that are not inborn. There is no 'gay' gene."
Twelve-year-old Blane Von Dohlen, daughter of Patrick Von Dohlen of the San Antonio Family Association, also had time at the podium. She said that she was for equality for everyone and for equality that God gave us, the equality for a natural man to be with a natural woman. She then quoted God's First Command. "God created mankind in his image, male and female he created them. God blessed them and said to them be fertile and multiply."
It was very evident that all of the speakers spoke from the heart citing their particular reason for not supporting the NDO. Attorney Allen Parker president of the Justice Foundation took me by surprise because he said something that I have been waiting to hear from so many in San Antonio for such a long time. As a native from San Antonio I have witnessed the decay of our family values from a slow simmer to the present full boil. So many times I have felt alone in my fight and in my struggle to inform.
Parker said, "I have lived here for 25 years in my community and I have sorta stayed out of this fight in the past because like most of the people in the faith committee it's kinda been a live and let live attitude," these were very strong words for me. What took you so long Allen
Parker? He is not any different than you or me because he continued, "Now my religious beliefs are being criminalized by the city of San Antonio and the right of anyone who believes in biblical marriage or traditional sexual values or just the fact that there are two genders, male and female, is now going to be a criminal under this ordinance." Welcome to our fight Allen Parker! He continued to say that councilman Diego Bernal has not been honest about the changes he promised the faithful. It's great to have a local attorney with a strong voice on board who is willing to fight side by side with us to defeat the NDO.
Texans, and especially those in San Antonio and scattered natives, unite and continue to fight against this NDO by calling your council person or even Mayor Julian Castro. Pastor Ripley and Patrick Von Dohlen are urging citizens to pray for the intercession of the Holy Spirit to infuse upon the members of the City Council to vote against the unjust proposed revisions to the NDO. Call or plan to meet with your council person before September 3 because the council is marching forward for a vote on September 5. More information will follow with another article on the people attending the council meeting on August 28. If you are still sitting on the sidelines, join the battle NOW. It may be too late tomorrow.
RED SONJA 2013©
PRAY, FIGHT, NEVER GIVE UP!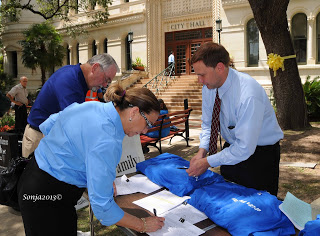 San Antonio Family Association selling T shirts and petitions to sign CONTACT San Antonio CITY COUNCIL MEMBERS http://www.sanantonio.gov/Council.aspx
OTHER ACTIONS TO TAKE:
1. Take the KTSA Poll. "Should SA pass the so-called Non-Discrimination Ordinance?" Vote NO. http://www.ktsa.com/pages/6354520.php
2. Contact your City Council by email: https://www.votervoice.net/TXVALUES/Campaigns/33052/Respond
3. Contact your City Council by Twitter: http://sahumanrightscoalition.com/speak-out/
4. Contact the Religion Writer for Express News and tell him why NDO should not pass.
http://www.expressnews.com/author/abe-levy/ BUT IS THIS THE TRUTH?
City of San Antonio Non Discrimination fact sheet www.sanantonio.gov/portals/0/Files/clerk/NDOfactSheet.pdf
Most Recent Draft of NDO
http://www.ksat.com/blob/view/-/21676388/data/1/-/155d3haz/-/0827-non-di...