San Antonio's Catholic Heritage At Stake With NDO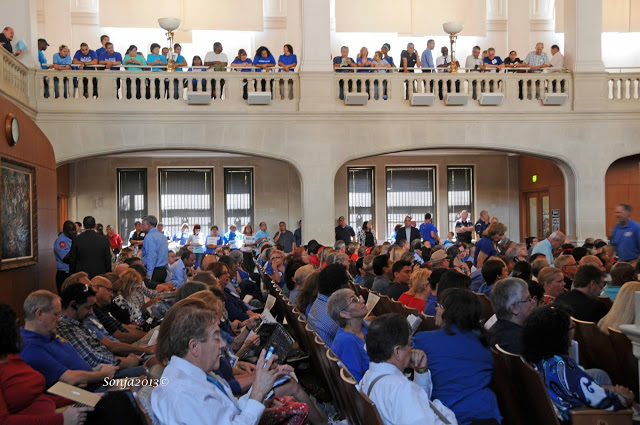 The San Antonio Express News failed to mention that on Wednesday, August 23, there were at least 800 Blue shirts for the 2 pm City Council session and over 1000 for the 6 pm meeting. Citizens waited in scorching 98 degrees to be able to give testimony on the proposed non discrimination ordinance. This was the first time that the council convened for the purpose of addressing the NDO which violates our First Amendment Right to Religious Freedom. The NDO is set for a vote on September 5.
It was very invigorating to see so many people wearing Blue signifying opposition to the NDO as and those wearing Red were barely visible at the 2 pm session. The lines whipped around the Municipal Plaza Building where the city council chamber is situated. The seating capacity inside the chamber is 500 and all the seats were occupied with at least 100 plus upstairs and people waiting in line still outside. The sea of Blue overpowered those wearing Red at the 6 pm council meeting also.
At the early afternoon meeting when the council members walked in to take their seats the attendees gave Elisa Chan D9 a standing ovation. This affirmation of Chan was not mentioned in the news media. Her stance opposing the NDO has been widely criticized by the Left. Mayor Julian Castro wearing a pink shirt and a red tie opened the meeting. San Antonio city attorney, Michael Bernard, took the podium and gave his opinion on the NDO. His opening statement was rather strange in that he articulated that the ordinance was not meant to advocate for any "particular lifestyle or religious view." So then why is the council voting on this NDO?
You don't have to be a mathematical genius to realize that those speaking were Against the ordinance but if you saw the TV newscasts that evening you would think that those For the ordinance were in the majority. At the 10 pm KTSA newscast, their reporter announced that there were almost 500 people giving testimony and only 169 had stood before the council at the time of the newscast. Another news source was more exacting with 477 wishing to give testimony. I have known for some time that the liberal media is slanted to the Left but I never knew just how much information they leave out to make the public believe their perspective. So if I lean to the Right I feel justified.
Councilman Diego Bernal D1 opened Pandora's Box by spearheading the NDO for the mayor told those in attendance that the meeting was "an opportunity for us to explain to you what it is we're doing and what we're not doing." He also told the audience that, "Part of my job here on City Council is to protect vulnerable people." Can anyone guess where he stands on the unborn? Attorney Allen Parker from the Justice Center did say at the press conference held earlier in the day, that Bernal was not being honest about his promises to the faithful of San Antonio.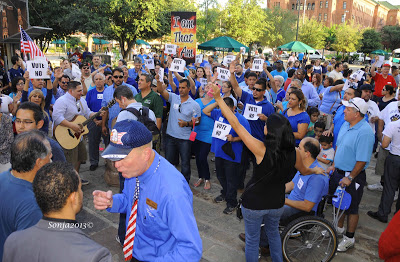 We arrived at the 6 pm Citizens to be Heard meeting about 6:30 pm and the seating quota had already been met, but there was plenty to take in outside. There must have been over 300 plus people singing Christian songs, praying the rosary, and discussing the proposed ordinance. The crowd had very few supporting NDO.
One person in particular stood out. It was a man who called himself Rene. He was over 6 feet tall and weighed maybe 300 lbs. As you can see in the photographs he wanted to make a statement. He was interviewed by several TV and radio stations and freely answered their questions. He, in fact, has chosen to live this 'lifestyle'. I understand that San Antonio now has a word policeman, Express News writer Gilbert Garcia. In his column of Sunday, September 1, he has 'respectfully' asked opponents of the NDO for a 'cease-and-desist' on the long-standing practice of equating the word "lifestyle" with same-sex orientation. And he is right, I have never obsessed over my heterosexuality because from an early age I knew I had female parts and that I was indeed a female. And yes, it is a natural part of my being. God created a man and a woman, and to date, I have not read where God created a ?. Also I don't believe that there is a scientist that can, with sound evidence, prove that there is a ? gene. The level to which this columnist attempts to tell the sane world that the heterosexual should watch his language is laughable.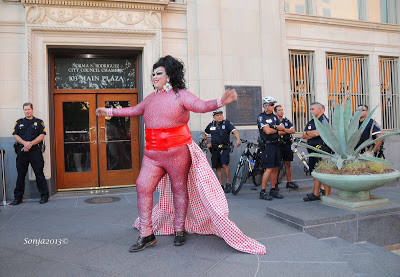 In the very same article he blasts Chan and a professor, Domenick Scudera for their 'lifestyle' usage. He also mocks Weston Martinez president of Texas Freedom PAC for deciding not to run for Bexar County Republican Chairman. So it's OK for the Left media to slam the Right in any way they possibly can but we have to 'cease-and-desist' from using the word 'lifestyle'. As a writer, Garcia should know that the First Amendment gives all of us Freedom of Speech, Freedom of Expression and Freedom of Religion. Will Garcia stop using words that demean persons on the Right? His article is further proof that the Left would like nothing more than to herd us alongside their minions like sheep. Wonder how many conservatives will buy into this nonsense?
'Lifestyle' label has no place in NDO debate
http://www.expressnews.com/news/news_columnists/gilbert_garcia/article/Lifestyle-label-has-no-place-in-NDO-debate-4778140.php
Adding puzzlement to the debate, I spoke to a mother of two girls who told me that her teenage daughter was 'gay' and that her youngest daughter about three years of age was 'innocent' and that she was going to teach her to love her older sister even though she is gay. I asked her if she thought her three year old might follow her older sister and also be gay. The mother answered, "I am ok with that. She can be what she wants to be." The mother did say that she is telling her three year old that she is a girl just like her sister. No, no confusion here.
I had the privilege of meeting a woman minister from Chicago, Illinois who was in San Antonio because she wanted to share her story. Alice Patterson from the Justice of the Gate was kind enough to introduce Linda Jernigan to me. Patterson told me that, "Jernigan had lived 18 years as a man and 15 years with the same woman and the Lord transformed her life 13 years ago and now she is a minister in Chicago."
I asked Jernigan what she thought of the ordinance and she replied, "I believe that this ordinance is reverse discrimination when they say they are installing this so that they can protect the rights of individuals but they are actually infringing upon our religious rights and our freedom to practice our religion as we choose." Jernigan left her lesbian 'lifestyle' and now ministers to those homosexuals that want a 'normal' lifestyle. Please follow the link and read just how Jernigan has impacted Illinois. Black Pastors' Leadership Defeats Same-Sex Marriage in Illinois http://tfdf.org/blog/2013/06/10/black-pastors-leadership-defeats-same-se...
It's ironic that the oldest church in Texas, San Fernando Cathedral founded in 1791, and the resting place for our fallen heroes of the battle at the Alamo is standing next to the Municipal Plaza Building where one vote will destroy our Catholic heritage, our freedom to express our Right of Conscience. Where have all the Catholics gone? My heart weeps for my native San Antonio!
There is still much work to be done before the SA City Council takes action to vote on Thursday, September 5. For those of you thinking that this vote is not important let me remind you that we deserve the leaders we allow others to vote into office. Take time to contact your council person and also call Mayor Julian Castro and let him know where you stand on this issue. This NDO is not about discrimination but about not allowing Christians to have their Right of Conscience. Share this article with all your friends and neighbors. RED SONJA 2013© PRAY, FIGHT, NEVER GIVE UP! CONTACT San Antonio CITY COUNCIL MEMBERS http://www.sanantonio.gov/Council.aspx CITIZENS TO BE HEARD On Line http://www.sanantonio.gov/yourcity/meetingappear.aspx
FROM PHIL SEVILLA:
Wednesday, September 4 noon to 2 pm City Hall downtown San Antonio
Catholic Prayer Vigil
Wear Blue
We will pray the Angelus, Rosary, Divine Mercy Chaplet, St. Michael
Prayer, and other Catholic devotional prayers and hymns.
Saint Michael the Archangel,
defend us in battle.
Be our protection against the wickedness and snares of the devil.
May God rebuke him, we humbly pray;
and do Thou, O Prince of the Heavenly Host,
by the Divine Power of God,
cast into hell Satan and all the evil spirits
who roam throughout the world seeking the ruin of souls.
FROM PASTOR GERALD RIPLEY:
1. Tuesday, September 3. Go to your council member's constituent office and tell his/her staff member you want your council member to vote "NO" or to table the ordinance or to let the people vote. Wear blue.
2. Wednesday, September 4. Citizens to be Heard. Be there by 4:45 pm to get inside. Or come by 6:00 pm and stand outside a couple hours. Wear blue. Sign up online after 8:00 am to speak or to secure a minute you can give to another speaker.
3. Thursday, September 5. Be there at 7:30 am to stand in line to get in. Sign up to speak as you enter. (You can give your minute to another speaker.) Wear blue.
This is an historic and unprecedented time for God's people in San Antonio.
It is an honor to serve God with you in our city! Most Recent Draft of NDO
http://www.ksat.com/blob/view/-/21676388/data/1/-/155d3haz/-/0827-non-di...