San Antonio Recall Efforts On Councilman Diego Bernal And NDO
Gina Castaneda leader of the Recall Team is gathering the 6,000 signatures necessary to recall San Antonio Councilman Diego Bernal. Councilman Bernal initiated the non-discrimination ordinance that passed with a 8-3 vote by the San Antonio City Council.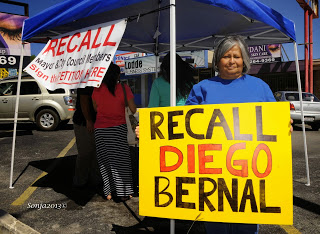 Castaneda stands in front of her booth to attract other like minded citizens to sign the petition. "The self imposed deadline of October 31, 2013 will be reached, she told me. The turnout to sign the petition has been overwhelming." Her plea to the people of San Antonio is a simple request. "Please come out and support true 'family values' and preserve our freedom of religion, freedom of speech and freedom of conscience." She promised me that there will be other councilmen recalled.
REPEAL THE SANDO ORDINANCE Volunteers manning this 'Repeal the Ordinance' table were Chris Anderson and Beverly Adams. Both were very enthusiastic about reaching the goal of 70,000 signatures necessary by Sunday, October 13.
Pastor Gerald Ripley has sent out a plea for help. He needs Notaries to certify the signatures of the referendum which is the repeal of the San Antonio non discrimination ordinance passed on September 5 by the San Antonio City Council. The signed petitions are to be delivered to the Sr. Coordinator at Abundant Life Church, 5626 Randolph Blvd San Antonio, Texas 78233 by 8:00 pm on Sunday, October 13. For more information on the referendum go to www.repealitsa.com.
The citizens of San Antonio are determined to reach their goals to recall Councilman Diego Bernal and the NDO. The Catholic Churches in San Antonio or not participating but many protestant churches are. If you have not signed the 'Repeal the NDO' petition, call your pastor and ask to sign the petition. Now is the time to be engaged in your community, your city. Presently California is working to recall the California AB 1266 Referendum signed into law by the governor giving access to transgender individuals to enter public restrooms including the schools.
RED SONJA 2013©
PRAY, FIGHT, NEVER GIVE UP!
SR COORDINATOR – PASTOR GERALD RIPLEY
210-650-4816 or [email protected]
NOTARIES please contact Russell Cruzan at [email protected]
To sign a referendum form or help gather signatures:
http://repealitsa.com/sign-petition/
REPEAL THE SANDO
www.repealitsa.com