Gallup: Texas Latinos Trending Republican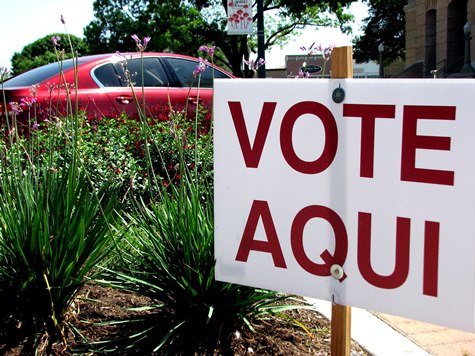 Republican Party of Texas Chairman, Steve Munisteri, has long been telling Republican clubs and organizations across the state that Hispanics in Texas are more 'Republican' than national trends. Recent polling from Gallup now backs that statement.
Hispanics have become increasingly Republican since 2008, according to the Gallup poll. Last year the number of Texas Hispanics that preferred the GOP was 27% as opposed to 21% from other states. This represents the largest gap in six years.
In an interview with Breitbart News, Von Ormy Mayor Art Martinez de Vara attributed the difference to generations of Texas' cultural traditions that cross racial lines. "I was not surprised," Mayor Martinez de Vara explained after reviewing the polling data. "Analysts often make the mistake of lumping all Hispanics together and that simply doesn't work."
Mayor Martinez de Vara, an avid Texas historian, said Texas Hispanics are more attuned with Texas cultures. "Tejanos and other indigenous cultures blended with immigrants to Texas from the United States in the early 1800s and developed a common sense of independence. Today, that frontier independence translates into a distrust of government, a desire for less government, a respect for firearms and strong family values."
Mayor Martinez de Vara has been spreading not only the words of these principles, but has been applying them locally where his town boasts a Hispanic super-majority population that elected a Republican-majority city council. The council has regularly reduced taxes for its residents according to Mayor Martinez de Vara. The Huffington Post was quick to respond with an article warning that, "Democrats hoping for Texas to turn purple might want to take a look at this poll."
Gallup last year found only 51% of Hispanics have registered to vote. This compares to 85% for non-Hispanic whites and 81% of non-Hispanic blacks. The registration rate for U.S.-born Hispanics was much a much higher 76 percent.
Mayor Martinez de Vara explained, "The Hispanic population of Texas has a higher percentage of Hispanics who have been in the United States for generations. They tend to vote more than Hispanics in other states where there is a higher immigrant population. Our mission now, as Republicans, is to continue to demonstrate how our party's values match up more closely with those in the Hispanic community - especially in south Texas where people have voted for Democrats historically. The Democratic Party of today is much different than it was twenty years ago."
RPT Chairman Munisteri told the Houston Chronicle, "The party's leadership has long recognized the importance of the Hispanic community. It continues to be a top priority of the Republican Party that we continue our engagement with the Hispanic community," he said. "As a result, today we have seven full time employees committed to engaging Hispanic voters in Texas."
---