Senator Cornyn Demands Answers on DOJ's Proposed Firearm Tracking Technology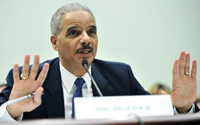 I sent a letter to Attorney General Eric Holder demanding answers about the Department of Justice's exploration of "smart gun" technology. Earlier this month, the Attorney General testified before the House of Representatives that DOJ is looking into new technologies that could raise constitutional concerns, including requiring firearms to contain biometric equipment that could store or transmit the personal identifying information of American citizens.
Your testimony has raised serious concerns for my constituents given President Obama's track-record of acting beyond the scope of his legal authority and your hostility to the individual right to self-defense under the Second Amendment.
Will you assure my constituents and me that, under your supervision, the Department of Justice will not issue regulations requiring law-abiding citizens to equip their firearms with fingerprint-reading technology, or to link them to biometric bracelets?