Sen. Cornyn Statement on President Obama's Troop Withdrawal Announcement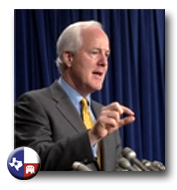 Following President Obama's speech calling for a rapid troop drawdown from Afghanistan, I released the following statement:
Many of us had high expectations for the President's speech Wednesday night. I had hoped he would clearly explain to the American people his long-term strategy for success in Afghanistan, and remind all of us why this mission is deserving of the sacrifice in American blood and treasure. Instead, he seems preoccupied with troop levels and when to start his withdrawal based on political considerations and not what will best serve U.S. national security. I am increasingly concerned by the lagging public support for the mission, and it was disappointing that the President failed to bring more clarity to the situation.