John Culberson Discusses the Cut, Cap, and Balance Act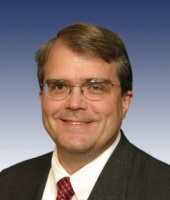 As an original cosponsor of the Cut, Cap, and Balance Act of 2011, I applaud our Republican leadership for bringing this urgent legislation to the House floor this week. This bill invokes a three step process to solve our national debt crisis. First, it cuts spending by $111 billion in Fiscal Year 2012, including $76 billion in non-security discretionary spending cuts. Second, it caps federal spending levels for this fiscal year and the next 10 years, which ensures that our government cannot spend beyond its means. And finally, it forces the federal government to balance its ledger by requiring a Balanced Budget Amendment to the Constitution before Congress can authorize any debt limit increase.
It's time for us to slam the brakes on President Obama's profligate spending and rescue our country from financial ruin. I look forward to casting a resounding yes vote next week for the Cut, Cap, and Balance Act of 2011.
For more information, please visit the Republican Study Committee's Website, here.
---
Related Content: Dianne Costa, Candidate for U.S. Congress, Discusses the Debt Ceiling and the Cut, Cap and Balance Proposal