Congressman Smith Introduces Bill to Protect Children from Sexual Exploitation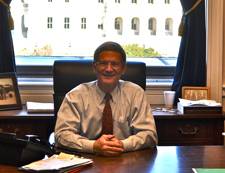 Today, I introduced legislation to protect children from sexual exploitation. The Child Protection Act of 2012 (H.R. 6063) increases penalties for the possession of child pornography, raises funding and resources for the Internet Crimes Against Children (ICAC) Task Forces and provides additional protections to child victims and witnesses.
The bill also improves the ability of the U.S. Marshals Service to apprehend fugitive sex offenders by giving them express administrative subpoena authority, however only for fugitive investigations of unregistered sex offenders.
Trafficking of child pornography images was almost completely eradicated in America by the mid-1980s. Purchasing or trading these images was risky and almost impossible to do anonymously. But the advent of the Internet reversed this accomplishment.
Today Internet child pornography may be the fastest growing crime in America, increasing an average of 150% per year. The National Center for Missing and Exploited Children's Child Victim Identification Program has reviewed more than 51 million child pornography images and videos in the hopes of identifying the victims in them. These images of children being sexually assaulted are crime scene photos – and each face represents a child in desperate need of help.
Every day these online criminals prey on our children with virtual anonymity. The Child Protection Act of 2012 provides law enforcement officials with important tools to combat the growing threat of child exploitation. We must ensure that investigators have every available resource to track down predators and protect the weakest among us. This bill ensures that paperwork does not stand in the way of protecting our kids. It gives the U.S. Marshals tasked with tracking down these predators the legal tools they need, and it helps prevent more victims by raising the penalties for those who hurt our children.