East Texas Obamacare Forum Making BIG WAVES Nationally - Local Papa John's Forced to Cut Jobs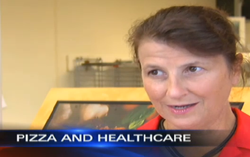 Last month, Jeff Sadighi and the Southeast Texas Tea Party organized a Health Care Town Hall.
Little did they know that their Obamacare Forum would lead to national attention.
This Texas Healthcare Forum made big waves after a local Papa Johns owner, Ms. Judy Nichols, spoke at the forum and told the audience that Obamacare might force her to stop expanding, and even fire employees. This is all thanks to the fact that she will not be able to afford the increased expenses that Obamacare would force upon her business by having over 50 employees.
The youtube video of this statement by Ms. Nichols spread around the internet garnered local media attention, like this KBMT Channel 12 story, and even garnered national media coverage, including Ms. Nichols appearing on Fox News.
When Papa Johns CEO John Schnatter announced that they would be forced to raise the price of their pizzas thanks to Obamacare, the national media was again buzzing, and Ms. Nichols kept getting more phone calls. Who better to quote in a national news article about Papa Johns Price increases than Ms. Nichols, the southeast Texas Papa Johns owner who boldly went to a small healthcare forum explained how Obama was the cause of her business hurting and the cause of her possibly having to fire people.
This is the video of Ms. Nichols at the Southeast Texas Tea Party Halthcare Forum that has created the stir: https://www.youtube.com/watch?v=9IU8FGnR8bU