Committee Passes Cornyn-Klobuchar Bill for Safe Disposal of Medication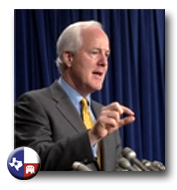 Amy Klobuchar (D-MN) and I introduced legislation that unanimously passed legislation that would provide consumers with safe and responsible ways to dispose of unused controlled substances. Consumers currently seeking to reduce the amount of expired or otherwise unwanted prescription drugs in their homes have few disposal options, increasing the risk that teenagers will gain access to them. The Secure and Responsible Drug Disposal Act of 2010 seeks to reduce that risk by permitting individuals and long-term care facilities to deliver unused drugs for safe disposal and promoting the development and expansion of drug take-back programs.
Unused and unwanted medication create a health hazard, but federal law currently prohibits people from giving their old medication to established drug take-back programs. As a result, unused medication is often diverted by drug abusers or improperly flushed into our water system. This cost-free and common-sense bill will allow state and private entities to institute responsible drug take-back programs. I am glad to work with Senator Klobuchar on this important bill, and I am pleased that it has the support of 41 state attorneys general, the Drug Enforcement Administration, and the Department of Justice.