Congressman Ted Poe Interview about Attorney Gen. Holder's Judiciary Committee Testimony
In December of 2010, US Border Patrol Agent Brian Terry was murdered by a gang of Mexican banditos. Two of the weapons involved in the shooting were learned to have come from a federal program called "Operation Fast & Furious".  Recently the House Judiciary Committee under the leadership of Chairman Lamar Smith (R-TX) held a hearing to receive testimony from US Attorney General (AG) Eric Holder as to the Justice Departments involvement in this operation.  Congressman Ted Poe (R-TX) is a member of that committee and recently sat down with me to discuss this and other matters related to Border Security and Illegal Immigration.
I asked Congressman Poe about his impressions of AG Holder during the hearings.  Poe said, "The more I learned from AG Holder, the more I was concerned, and am concerned about this entire operation."  He continued, "The idea that the United States would smuggle automatic weapons to our neighbor, Mexico; give them to the drug cartels, the enemy of Mexico and the United States, 2000 weapons most of which are unaccounted for, it nonsense."
Congressman Ted Poe discusses Operation Fast & Furious with TexasGOPVotes, Bob Price.
Poe stated that 200 Mexicans have died and at least 2 American law enforcement have died because of this operation.
The second thing that Holder said that surprised Poe was, "More people are going to die."  Poe said, "Thats awful!"
The third thing Poe said was, "I asked him, who was in charge of this operation?" Holders answer - "I dont know!"  Poe said that answer was preposterous.
Poe went on to say, "If he (Holder) didnt know who was in charge, is there a rogue operation going on in the Justice Department?"  If there is some "rogue operation" going on, why has the Justice Department been unable to figure that out?
Video Interview with Congressman Ted Poe
I asked Poe if the AG testified under oath. He informed me that while Holder was not "sworn in" before the hearing, part of the agreement to testify makes it clear that the testimony was under potential of perjury.  Poe expressed dissatisfaction with Holders reluctance to give up any of his direct correspondence related to Fast & Furious.  He assured me, "We will get the documents!"
Poe said Holder should resign and President Obama should appoint a special prosecutor to completely investigate this operation.  I asked Poe about others calling for impeachment of the AG. He said that impeachment would take too long, citing next years elections.  He went on to say the Senate would never convict anyway.  If Obama does not appoint a special prosecutor, Poe felt certain a new president would in 2013.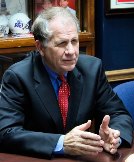 I asked Poe what he learned that he did not know before the hearing.  He expressed that he was surprised to learn that Mexico did know part of the operation but not the entire operation.  Poe asked Holder during the hearing, "Would you agree this was reckless conduct on the part of the part of the Justice Department?"  Holder replied, "Yes, I would agree that it was reckless."  Poe pointed out that under Texas law; reckless conduct that resulted in the death of another peron is manslaughter at which point Holder backed away from his comment.
We went on to discuss the family of Agent Terry and their desire to see justice done. We talked about how the over aggressive prosecution of Border Patrol agents, like Agent Jesus Diaz, might have led to hesitation in response by Border Patrol Agents leading to their deaths.
And finally, we wrapped up the interview following up on our previous discussion about Congressman Poes bill on border security that would place 10,000 National Guard troops along the border, under the direction of border state governors but paid for by the federal government.  He told me this bill is still in committee and they plan on moving it forward next year.
At one point in the interview, Poe mentioned Holders reputation for not reading legislation citing the AGs failure to read the Arizona 1070 bill prior to filing suit against the state of Arizona and even before testifying before Congress on the matter. Here is a video of that exchange between Poe and the AG.
We left this interview knowing we have much more to discuss. As the Congressional investigation continues, I will check back in with the Congressman to bring you updates on the progress of the investigation. If you have questions you would like me to ask the Congressman on this matter, please reply in the comments below and I will bring them up in our next interview.
Related Materials on Fast & Furious and Agent Brian Terry