Conservative Featured Voice: Steve Munisteri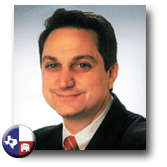 Steve Munisteri is the Chairman of the Republican Party of Texas.
Steve Munisteri is a native of Houston, TX, and a 38 year veteran of Republican politics in Texas and the United States as a conservative grassroots activist.
Starting in 1972 as a volunteer for the Hank Grover campaign, to volunteering in Iowa to fight against the Obama political machine in 2008 - Steve has a long history of dedication to the Republican Party. He has served in numerous volunteer capacities, including working as a precinct chairman of two different precincts in Harris County, and serving a term on the State Republican Executive Committee for Senate District 17. He has experience in working in over 50 campaigns, in all aspects from blockwalking and phone banks, to sitting in on strategy sessions for national Presidential campaigns.
In 1978, Steve Munisteri was elected State Chairman of the Texas chapter of Young Americans for Freedom, and begun the practice of issuing legislative rankings for members of the Texas House of Representatives and State Senate. In 1980, Munisteri founded Young Conservatives of Texas, a group which continues to produce the future generations of our conservative leaders and elected officials in college campuses across the State.
Munisteri founded his own law firm in 1982, and built it up from a one man operation, to a business with 49 employees, 20 attorneys and a multi-million dollar budget. In 2008, he retired from law practice and concentrated his daily activities on other financial and business interests, and also on volunteer political work across Texas and the United States.
Mr. Munisteri attended Memorial High School in Houston, before graduating from the University of Texas in Austin with a BBA in Finance with honors. He also earned a J.D. from the University of Texas Law School.
Following his election to the State Chairmanship at the 2010 Texas GOP Convention in Dallas, Mr. Munisteri obtained a second residence in Travis County and currently serves full-time as the State Party Chairman at the RPT headquarters in Austin.
Source: texasgop.org
"Together we will move united into November to deliver victory for our Republican candidates at all levels of government."