Conversation With Alberto Gonzales, Former US Attorney General - Patriot Act - 'Kill' Obl - Enhanced Interrogation - Gitmo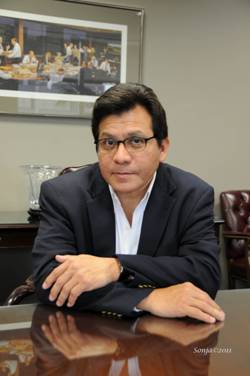 911 changed America forever. We will never be the same, regardless of how much we want it or how much we believe that we can bring back that time before 911. President GW Bush in the infancy of his presidential term had to deal with this massive and devastating heartache. The Liberal Media or the mainstream media never let up on Bush. Even today the MSM continues to hammer him and his administration. What conservatives have to realize is that we have been brainwashed and, knowingly or not, many Americans have been conditioned to believe what is read or heard. How much you believe in the MSM is your choice.
The Patriot Act extension passed both the House and the Senate on May 26, 2011 hours before it was to expire but not without controversy. Three provisions, tracking of the 'Lone Wolf' terrorist, roving wiretaps and confiscation of business records which include library records, were debated on the House floor. Judiciary Committee Chairman Lamar Smith introduced his committee members to champion the provisions. Freshman Congressman Rand Paul was vehemently against passage without his Amendments which both failed. We may not all agree with the provisions of the Patriot Act, but we all should agree that the War on Terror is alive and well. What is critical is that we must have a Commander in Chief who will not abuse his executive powers. That is why we must carefully select the next president of these United States.
This is Part 2 of my Conversation with Alberto Gonzales and it is my desire that you read his comments with a renewed awareness of the War on Terror. I have provided links so that you can read the opinions of Steven Bradbury, assistant US Attorney General on enhanced interrogation. While there continues to be debate on enhanced interrogation on the Senate floor, Hamas, Al Qaeda, the Taliban and the radical Islamists remain undeterred in their quest to kill the 'infidels'.
When I asked Alberto Gonzales on the subject of enhanced interrogation he did not back down, agreeing with Dick Cheney when he said that they were, "legal, essential, justified, and successful, and the right thing to do." Gonzales stated,
"Again, going back to what President Bush directed, which I believe is important, and that is, it's important to get information, information that is going to help us keep America safe."

"Information about future plots, and that we do everything we can under the law to get that information. There are people who believe that enhanced interrogation techniques were effective, there are others who say they're not effective, that some who is subject to them is going to say anything in order for it to stop. I've heard enough and I've seen enough to believe that it probably is effective. I know Mike Hayden who was the Director of the CIA, the last Director under President Bush, he talked about the fact that half of the information we have about the Al Qaeda network came initially from enhanced interrogation techniques and so I'd have to say that based…relying upon the experts, yeah, it is effective, if done the appropriate way."

"However, having said that, I want to be very clear about this, it's not enough that they be effective, they have to be lawful. And I don't think President Bush based on what I've heard him say to other people would authorize enhanced interrogation techniques no matter the circumstances, no matter what was at stake, if they were not lawful."
I heard about some of those opinions by Bybee and Yoo… "The opinions were initially offered by John Hughes, later by Steve Bradbury and also by Dan Levin."
Gonzales also spoke about the closing of Guantanamo Bay. He said that President Bush and Donald Rumsfeld did not want to be the world's jailers and wanted to close the facility but found that Gitmo was the only option for the men being captured on the battlefield. There was not a better alternative. He said that it was the best of the worst options in 2001. Gonzales also made the comment that, "I suspect it remains the best option today."
"And so when I'm asked today, 'Should Guantanamo be closed.' I'd say, 'Yes, it should be closed, but only if there's no need and if there is a need and that there is a better option.'"
On bringing terrorists to trial in the United States he said,
"There are serious legal risks, some serious security risks in bringing people at Guantanamo into the United States. Risks that are very hard to quantify for that reason. That's why you had serious push back from members of Congress about this notion. Closing Guantanamo and perhaps bringing people, detainees in the United States."
If water boarding is such a controversial interrogation technique, and you know that's been knocked around back and forth, than what makes the killing of Osama Bin Laden an acceptable action, or for that matter, on what legal grounds for this particular action?
"Yeah, I don't know that I would equate the two. I'm not going to try to defend water boarding to those who simply are uncomfortable with it. I mean, I won't be able to persuade someone with it. If they believe its torture, I'm not sure there's anything I can say…"
Right…
"…to convince them otherwise. I know it's unpleasant and I know I wouldn't want it done to me. It's hard, it's harsh, but again, it was in order to get information and it was done in a way where the lawyers of the Department of Justice said, 'Okay, if you do it this way under these very strict safeguards, then it will not violate the Anti-Torture Statute.'  And for me that's the key. Again, I know I can't give you a debate and persuade someone that it's not torture. But I can say is if it was looked at carefully by the lawyers and if applied a certain way it would not violate a certain criminal statute."

"With respect to killing Bin Laden… Bin Laden was a military leader, he was a military target. We were at war with Al Qaeda. Under the laws of war, you are entitled to take out the military leader."

"That's it. There is no question about whether he's a legitimate target or not, whether you can kill him, as long as he wasn't trying to surrender, then as far as I'm concerned, there's no question to be asked here."
Right now when you said you would not want to be water boarded have you personally been there to see it?
"No. I have not but there is a program called 'Survival of Agent Resistance and Escape' that many of our military personnel go through in the event they are captured. Part of that training is that we water board our military. Dan Levin, who wrote one of the opinions for the Department of Justice, he subjected himself to water boarding. It is terribly unpleasant. No one wants to go through it but you survive it and you do this for your own soldiers. I hate to think that we can make the argument that we are torturing our own soldiers and therefore everyone should be subject to criminal prosecution but again also I don't want to minimize how tough this technique is. Again it is offensive to some people. And to some people it does constitute torture. And again all I would say to them is that the lawyers looked very carefully at this and imposed some very tough restrictions and safety precautions to ensure that someone doesn't suffer in violation of the Anti-Torture Statute."
Why do you suppose Eric Holder has not detained or incarcerated any terrorists or suspected terrorists at Gitmo?
"Well, that is not a decision solely for General Holder. Gitmo is a military facility. General Holder may have an individual that he believes should be at Guantanamo. He may communicate to the Secretary of Defense, Secretary Gates. This person should go into Guantanamo. But again, it is a Department Of Defense facility, ultimately who is there is a decision for Gates, Secretary of Defense unless president Obama wants to get involved."
What do you think of the PATRIOT ACT?
"I think if you ask any intelligence official, any law enforcement official talk to Bob Mueller, Director of the FBI for example he will tell you that because of the Patriot Act we have been able to get information timely that has allowed us to get information that has protected America and saved American lives. I think that there is no question about that."
Do you think that the Patriot Act has kept us safe? Or has it just eroded our personal liberties?
"I think it has kept us safe. Clearly, whenever we give the government additional authorities you have to be mindful to the fact that sometimes people abuse that authority, that power and we need to watch carefully to ensure that our civil liberties are not eroded. I will say, however, that when the Patriot Act was reauthorized and it must have been reauthorized at least one time, there were at least 50 additional civil liberty safeguards included. Additional reporting requirements so that for example every year the FBI would have to go to Congress and say OK you gave us this authority and this is how we have used it. That's the kind of checks that Congress has now imposed upon those powers of the Patriot Act to ensure that our civil liberties are not being abused. I can't guarantee you that mistakes sometimes don't happen. I can't guarantee you that sometimes an agent won't abuse his authority, but I think Congress has really worked hard to ensure that civil liberties are protected. I know people like Bob Mueller that I have great confidence in. I know that he demands, he demands that his agents do their jobs in getting information investigating terrorists and criminals but we will do so in a way that is respectful to our civil liberties."
APphoto
Jay Bybee-Steven Bradbury-John Yoo
EXCERPT from Steven G Bradbury Memo dated May 10, 2005
The universal rejection of torture and the President's unequivocal directive that the United States not engage in torture warrant great care in analyzing whether particular interrogation techniques are consistent with the requirements of sections 2340-2340A,'and we have attempted to employ such care throughout our analysis. We emphasize that these are issues about which reasonable persons may disagree. As is apparent, our conclusion is based on the assumption that close observation, including medical and psychological monitoring of the detainees, will continue during the period when these techniques are used; that the personnel present are authorized to, and will, stop the use of a technique at any time if they believe it is being used improperly or threatens a detainee's safety or that a detainee may be at risk of suffering severe physical or mental pain, or suffering; 'that the, medical and psychological personnel are continually assessing the available literature; and on going experience with detainees, and that, as they have done to date. They will make adjustments to techniques to ensure they do not cause severe physical or mental pain or suffering to the detainees; and that all interrogators and other team members understand the proper use of the techniques, that the techniques are not designed or intended to cause severe physical or mental pain or suffering, and that they must cooperate with OMS personnel in the exercise of their important duties Please let us know if we may be of further assistance,
Steven G. Bradbury
Principal Deputy Assistant Attorney General
http://press.take88.com/wp-content/uploads/2009/08/olc_05102005_bradbury46pg.pdf
http://press.take88.com/wp-content/uploads/2009/08/olc_05102005_bradbury_20pg.pdf
If you want to see how your congressman voted on Patriot Act go to
http://clerk.house.gov/evs/2011/roll376.xml
---
Also read: Conversation with Alberto Gonzales Part 1