Cornyn: Administration Doubling Down on a Bad Bet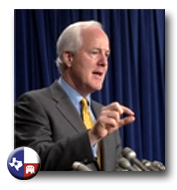 I issued the following statement after President Obama's speech today announcing his plan for a second stimulus:
The Administration is now doubling down on a bad bet—that higher taxes and more government spending will help grow the economy and create private-sector jobs. But Americans know that the Administration's stimulus was anything but stimulating.
President Obama promised the American people that his trillion dollar stimulus would create 4 million new jobs and keep unemployment under 8 percent, but it failed miserably by their own standard. Now with Election Day just around the corner, the President is asking for a mulligan.
Americans have heard this Administration claim that reviving our stagnant economy and creating private-sector jobs was their top priority, but the rhetoric has far outpaced its performance. A second stimulus that raises taxes, increases government spending and creates more bureaucracy will only lead to more uncertainty, a greater lack of confidence, and, ultimately, stagnant job growth.