Cornyn: Bailout Estimate Illustrates Missed Opportunity for Meaningful Reform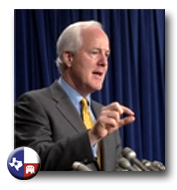 Today, I issued the following statement in response to a report released by the Federal Housing Finance Agency (FHFA) that projects the taxpayer bailout for Fannie Mae and Freddie Mac could reach $363 billion through 2013, more than double the original estimate:
Today's startling revelation is a testament to the dire consequences of putting taxpayers on the hook for those who made bad business decisions. Unfortunately, the Dodd-Frank Wall Street bill recently enacted into law intentionally excluded Fannie Mae and Freddie Mac, failing to address one of the major factors that led to the current economic and housing crisis and neglecting many much-needed reforms.
I previously supported an amendment sponsored by Sen. John McCain (R-Arizona) that would have put in place an orderly transition period to end the conservatorship of both Fannie Mae and Freddie Mac. The proposal would eventually require each to operate – without government subsidies – on a level playing field with private sector competitors.